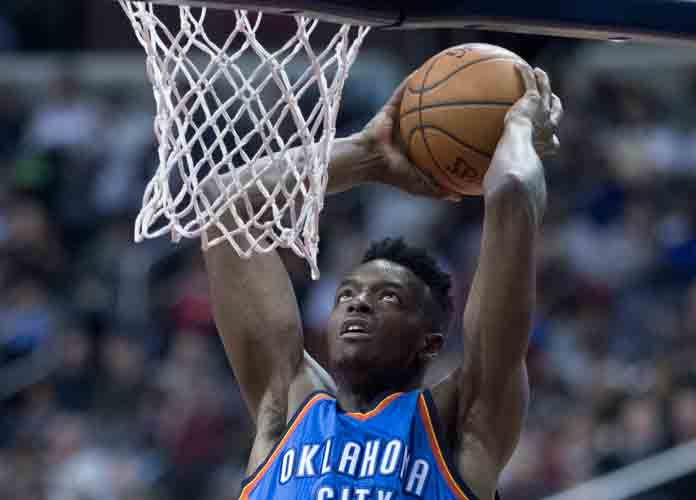 The Oklahoma City Thunder's rebuild is in full force now. According to ESPN's Adrian Wojnarowski, the Denver Nuggets have acquired Oklahoma City Thunder forward Jerami Grant for a 2020 first-round draft pick.
The trade for the Thunder saves them $39 million in salary and tax and gives the Thunder their sixth acquired draft pick in the last week through trades. On Friday, the Thunder acquired five draft picks from the Los Angeles Clippers in the Paul George trade.
In the George trade, the Thunder acquired from the Clippers three unprotected first-round draft picks (from 2022, 2024 and 2026) and two future draft picks courtesy of the Miami Heat (2021 unprotected and 2023 lottery protected). The Thunder have the right to swap draft picks with the Clippers in both the 2023 and the 2025 NBA Drafts.
SPORTS FIGURES WHO DIED IN 2019- IN MEMORIAM SLIDESHOW 
Grant, 25, averaged 13.2 points, 5.2 rebounds and 1.3 blocks in 77 starts for the Thunder last season. Nuggets president of basketball operations Tim Connelly is very familiar with Grant. Back when Connelly worked with the Washington Wizards early in his career, Grant's father, Harvey Grant, played for the Wizards.
Grant, a power forward, joins Paul Millsap as the other power forward on the Nuggets' roster. The former 39th overall pick of the 2014 NBA Draft out of Syracuse is a lengthy forward who is a very stingy defender. For the Nuggets — who were one win away last season from the Western Conference Finals — adding Grant is a solid addition to an already loaded roster.
With both George and Grant now gone, the Thunder are clearly in the beginning stages of a complete roster rebuild. In the next few weeks, it is expected that both center Steven Adams and guard Russell Westbrook will also be traded.