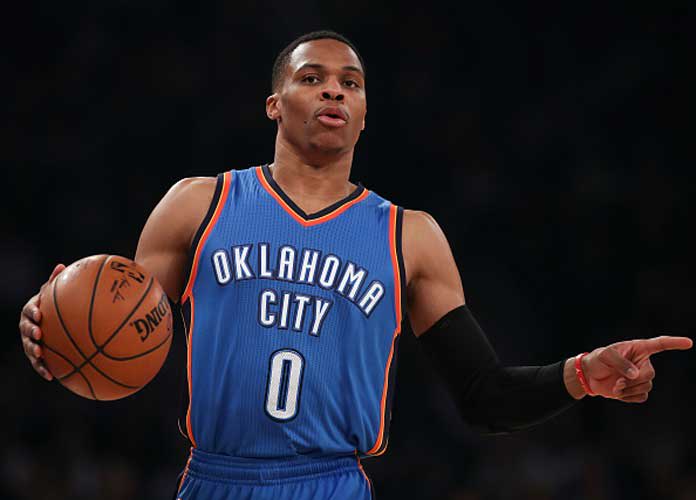 After Russell Westbrook's co-star Paul George left the Oklahoma City Thunder to go to the Los Angeles Clippers with Kawhi Leonard, Adrian Wojnarowski has reported that Westbrook may be looking to the leave the Thunder as well.
Westbrook has been one one the more loyal players to play for the Thunder, as he's played there his entire career alongside multiple stars now gone, includingJames Harden, Kevin Durant and now George.
According to ESPN, Westbrook may favor a move to the Miami Heat with their newly acquired talent Jimmy Butler, who left the Philadelphia 76ers earlier this free agency period. Thad Foucher, Westbrook's agent, is reported to be motivated to move his client out of a poached Thunder team so he can play with another co-star. Westbrook still has four years left on his current contract with the Thunder, which is worth a remaining $170 million.
Westbrook has reportedly stressed his belief that the Thunder are now out of playoff contention after the loss of George, and will be wanting to possibly play in a weaker Eastern Conference compared to the West with a co-star in Butler.
SPORTS FIGURES WHO DIED IN 2019- IN MEMORIAM SLIDESHOW 
The Thunder received a surprising six first-round draft picks from the combination of the Clippers and the Denver Nuggets after they traded Jerami Grant to them. From the Clippers, the Thunder received Shai Gilgeous-Alexander, a sophomore player in the NBA from the University of Kentucky.
The Heat aren't the only team interested in Westbrook, however, as the former league MVP is being looked at from the Houston Rockets as well, according Tim MacMahon of ESPN. Tim Reynolds of the Associated Press has relayed ESPN's other report of the Heat being favorites.
With their newly acquired first-round picks, this could be as best of a time as any to drop Westbrook's contract and focus on a rebuild. Andre Roberson and Steven Adams remain essential pieces to the Thunder squad, but opening the cap space from Westbrook's whopping $38 million a year could help usher in a new era of this Thunder team. The Thunder could further their first-round pick accumulation for the eight-time All-Star and proven game-changer on the floor.