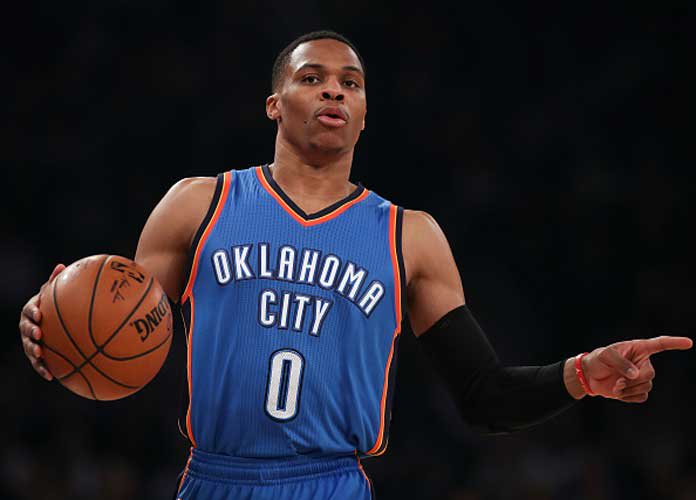 Last week, the Los Angeles Clippers seemingly changed their franchise overnight. Well, actually, that's exactly what they did, tossing all idioms aside. After finals MVP Kawhi Leonard reportedly confessed his wishes to play alongside another top NBA talent next year, the Clippers played the genie role for Leonard, pairing him with Paul George, and therefore evolving the team into a contending club over just a few hours.
On the other end, George's departure left former league MVP Russell Westbrook without a supporting figure now, as the two played beside each during the last two years for the Oklahoma City Thunder. Westbrook's intense loyalty to Oklahoma City, which shined brightest three years ago after signing a long term deal to remain with his team despite Kevin Durant ditching him for Golden State, crowned him as perhaps the city's most cherished figure.
However, with the team once again leaving Westbrook abandoned by the talent necessary to win a championship, Westbrook's patience wavered, leading to a trade request from his agent. Granting Westbrook's wish this time around, the Thunder traded him to the Houston Rockets Thursday night. Westbrook, now vacating a city he firmly stood beside throughout his entire career, allies with James Harden again, as two reunited teammates formerly played three successful years beside each other, even elevating the Thunder to their first NBA Finals during the 2012 season.
Teams such as the Miami Heat and Detroit Pistons highlighted multiple other squads expressing interest in acquiring the eight time All–Star, however Houston solidified itself as the ideal suitor after offering up point guard Chris Paul and multiple first round picks to exchange. Westbrook's $170 million contract initially stood as a massive obstacle for the Thunder while shopping Westbrook, but the excessive $159 million contract tied to Paul served to even things out for a generally even trade. Other teams who allegedly looked to acquire Westbrook included the Cleveland Cavaliers, a club with massive cap space, fully capable of swallowing the financial hit the comes alongside Westbrook. Still, Westbrook's clear intentions to play for a winning team and the Thunder front office's respect for Westbrook most likely played as the key factors warranting Westbrook's trade to Houston, rather than elsewhere.
SLIDESHOW: 30 BEST SPORTS INSTAGRAMS
Last year, Westbrook averaged a triple–double for the third consecutive season, as he continues to surge on statistically. Houston now adds perhaps the league's most competitive player and a Hall of Fame level talent. Meanwhile, the Thunder continue to structure a solid foundation for a successful rebuild with the draft picks acquired from this transaction. Whether or not the Thunder plan to deal Paul next for more draft picks or simply play him remains undetermined. However Paul's age shines a spotlight on him as an outlier to the Thunder's clear rebuilding plans, stamping a large question mark on his future.