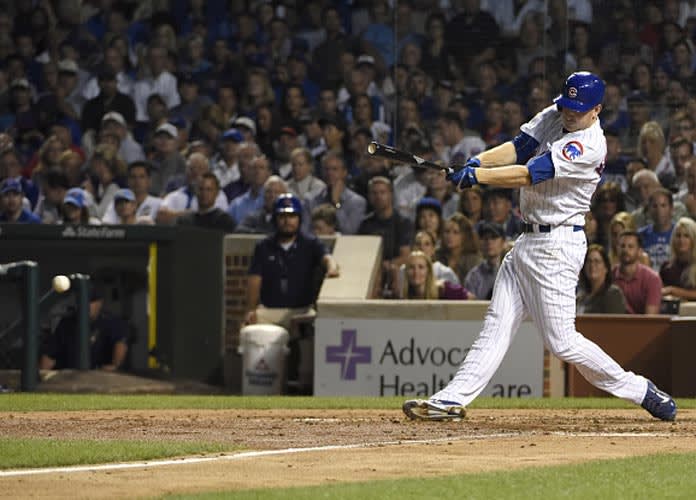 The Chicago Cubs have announced that they have traded left-hander Mike Montgomery (who recorded the final out of the 2016 World Series) to the Kansas City Royals for catcher Martin Maldonado.
Maldonado, 32, will fill the void left by Cubs All-Star catcher Wilson Contreras. The Cubs placed Contreras on the Injured List Monday with a strain in the arch of his right foot. While the Cubs do not expect Contreras to miss significant time, Maldonado can help ease the pressure off of Victor Caratani, who is expected to pick up the bulk of the catching work in the coming weeks without Contreras.
"It was something we wanted to quickly finalize once it became clear Willson was going to miss some time," Cubs president Theo Epstein said after Chicago's 6-3 loss to the Cincinnati Reds. "He's an established catcher in this league who does a lot of great things behind the plate. He can receive. He can throw. He's handled some of the best pitchers in the game."
Maldonado is set to hit free agency this winter after signing a one-year, $2.5 million contract with the Royals last offseason after the royals placed All-Star catcher Salvador Perez on the season-ending disabled list due to Tommy John surgery.
Montgomery, 30, after previously requesting to be traded from the Cubs earlier this season, according to ESPN, finally gets his wish.
"From a career perspective, looking at how it was taking shape, I thought I was best suited to be a starter," Montgomery said.
Montgomery made 18 starts for the Cubs during the 2018 season, but with Yu Darvish, Cole Hamels, Kyle Hendricks, Tyler Chatwood, and Jon Lester filling out the Cubs rotation in 2019, there has been seldom opportunity as a starter this season for Montgomery. Now on the Royals, a team who needs just about any help they can get, Montgomery should have plenty of opportunities to prove that he can be a starting pitcher.