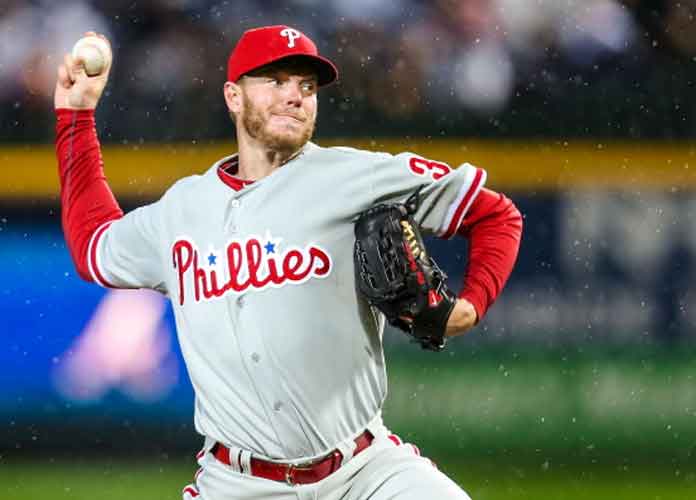 Elite pitcher Roy Halladay was inducted to the Baseball Hall of Fame on Sunday. To contribute his remembrance, his widow Brandy Halladay, gave an emotional speech to remember her late husband after his tragic death after he crashed his plane off the Gulf Coast of Mexico outside of his Florida home.
Halladay started as a Toronto Blue Jay before being traded to the Philadelphia Phillies. He passed away on November 7, 2017.
"I think that Roy would want everybody to know, that people are not perfect," Brandy Halladay said. "We are all imperfect and flawed in one way or another. We all struggle. But with hard work humility and dedication, imperfect people can still have perfect moments.
"Roy was blessed in his life and career to have some perfect moments, but I believe they were only possible because of the man he strives to be, the teammate that he was, and the people he was so blessed to be on the field with.''
Her speech was filled with tears, but her words covered the power of her emotions. She had the shortest speech of the day on the stage, but perhaps the most moving. According to Sports Illustrated, there are still a ton of questions to this day surrounding his death. Morphine and amphetamines were found in his system, and SI talks about his struggle with addiction to pain medication and his battle with depression.
SPORTS FIGURES WHO DIED IN 2019 – IN MEMORIAM SLIDESHOW 
"The message I wanted to convey there, is that Roy was a very normal person with a very exceptional, amazing job," Halladay said, according to USA Today. "These men doing these outstanding things, they're still real people. They still have feelings. They still have families. They still struggle."
Former New York Yankees star Mariano Rivera was also honored earlier this year as the first unanimous induction into the Hall of Fame as well.
 "It's hard to understand, but it happened,'' he said, according to USA Today. "And all I was trying to do was pray for her because the Lord can give you strength.
Halladay celebrated an infamous career as an eight-time All-Star for the NL League and won a Cy Young in both leagues.