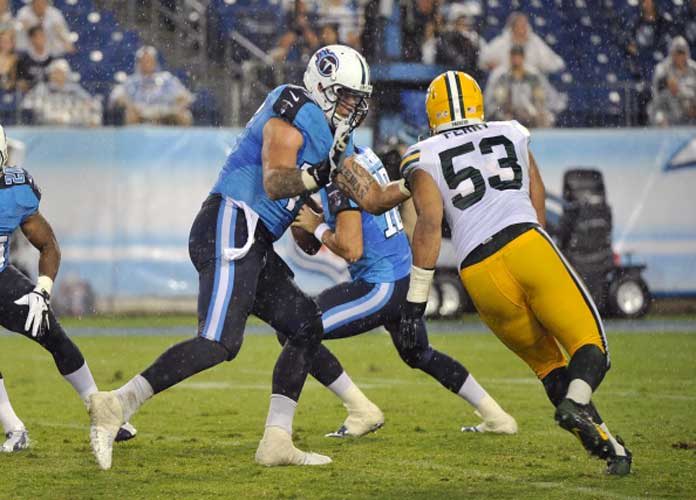 Tennessee Titans offensive lineman Taylor Lewan has failed a drug test from a banned substance called ostarine, and is facing a four-game suspension. He released a video explaining his obliviousness to the substance, and called for an appeal of the test.
"I want everybody to know that I've never taken this supplement knowingly and I've never cheated the game, and I never will," he said, according to USA Today. "I'm making this video so that it comes from me and nobody else and it doesn't leave anything up to interpretation."
Lewan received a notice from the NFL over two weeks ago stating that ostarine was in his system. Ostarine, according to ESPN, acts and has similar effects to steroids, and is a "selective androgen receptor module" that is not approved by the US Anti-Doping Agency for human consumption. It is also not available as an over-the-counter medication or a prescription.
SPORTS FIGURES WHO DIED IN 2019 – IN MEMORIAM SLIDESHOW 
He tested positive for the first test he was presented to, but the results for the second test has not yet come back, according to Adam Schefter of ESPN.
Players can appeal samples and the way they are collected. Former Seattle Seahawks, and now San Francisco 49ers cornerback Richard Sherman won his appeal when he was in Seattle because the process of collecting his sample was an improper practice by the NFL.
If the Titans' player fails his appeal, they will be without their best lineman for the first four games of the regular season. Lewan is in the top 20 in the NFL in offensive lineman stats. He racked up over 300 blocks and was in the top 10 of best offensive tackles.
If he were to miss the first four games, he would have to sit out against the Cleveland Browns, then their home opener against the Indianapolis Colts, followed by back-to-back away games against theJacksonville Jaguars and Atlanta Falcons.