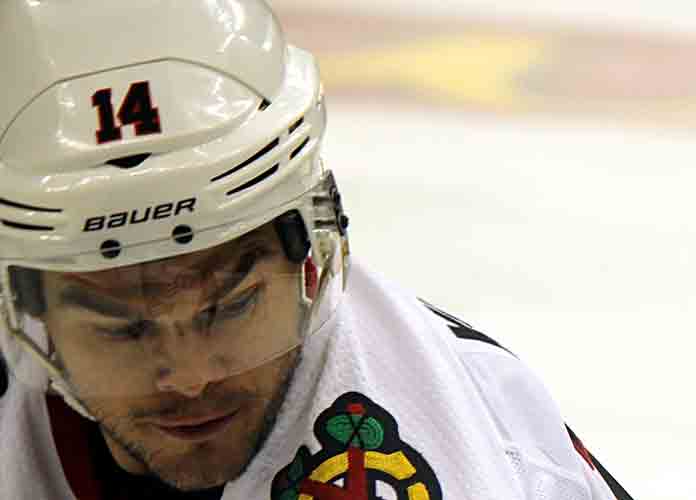 After 15 seasons and raising four up Stanley Cups, forward Chris Kunitz intends to call it a career this offseason.
After finishing his playing career and now starting his next opportunity with his current team, Kunitz reportedly plans to stay with the Chicago Blackhawks as a developmental player advisor to usher in his life's next stage.
Kunitz issued nothing but thanks for his teammates and coaches after announcing his plans to hang up his skates, and stated, "Your leadership helped mold me into the player I knew I could be. I was given the opportunity to play with the very best teams and the very best players and I'm grateful for the laughs and the friendships that we shared together."
Former teammates such as Ian Cole and other fans also expressed their thanks for Kunitz across Twitter Tuesday night.
Kunitz finishes out an applause-warranting career with 268 goals and 351 assists while playing in 1,022 games split up between the Blackhawks, Atlanta Thrashers, Anaheim Ducks, Tampa Bay Lightning, and most notably, the Pittsburgh Penguins. While serving as a linemate for the all–time great Sidney Crosby during his time in Pittsburgh, he won his last three championships as a Penguin.
IN MEMORIAM: SPORTS FIGURES WHO DIED IN 2019 TRIBUTE SLIDESHOW
Aside from his successful years in Pittsburgh, Kunitz also captured a Stanley Cup while paying for the team that drafted him, the Ducks, in 2007.
Kunitz addressed each organization he played for, thanking them for not only the way they treated him but also his family over his career. Kunitz commented, "I'd like to sincerely thank the Anaheim Ducks, the Pittsburgh Penguins, the Tampa Bay Lightning and the Chicago Blackhawks. Every one of these organizations was the ultimate example, not only to me, but to my children, on what true professionalism should be."
Jeremy Colliton said he is excited to have Kunitz aboard going forward, and Kunitz's coach-turned-colleague stated, "I'm very pleased to have him a part of our coaching group and, also, use him as a development resource for our young players in Rockford." Kunitz likely plans to serve Colliton's players directly as an advisor, while also tending to the club's AHL team, the Rockford IceHogs.