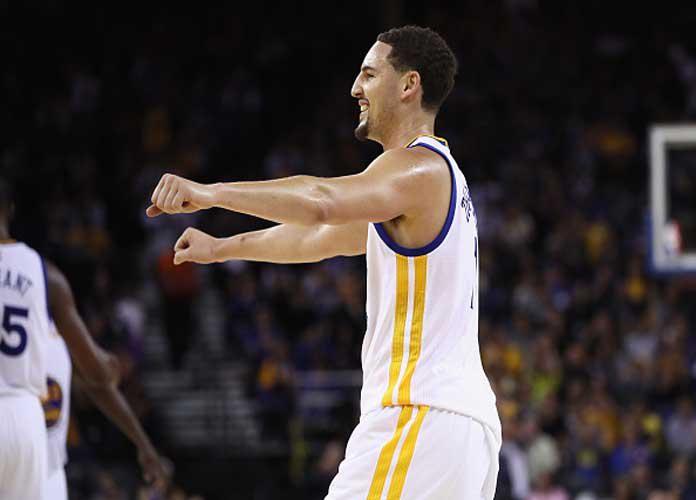 The Golden State Warriors lost on multiple platforms when the Toronto Raptors dethroned them earlier this summer during the NBA Finals.
Not only did Golden State fail to win their third consecutive title while Kevin Durant simultaneously packed his bags for Brooklyn, but the team also lost Klay Thompson likely for next year's entire season as he recovers from a torn ACL.
With the team poised to introduce a lineup differing tremendously from the Goliath squad that paraded around the league from seasons prior, the Warriors appear destined to take a step back next year. However, Thompson continues to show no signs warranting any worries on his behalf.
"To say the dynasty is over is a little ignorant because I'm going to come back better and even more athletic. It would not be smart to count the Dubs out," said a confident Thompson earlier this week.
In backing up his take, Thompson reminded those doubting the Dubs that Steph Curry and Draymond Green still remain with the squad, while also professing his belief that newly-acquired guard D'Angelo Russell will "bloom into a superstar."
With no way around the fact that the team will still certainly miss Durant's 26.0 and Thompson's 21.5 points per game from last year, Thompson's claims about Curry, Russell, and Green's potential holds some legitimacy. Last year Curry averaged 27.3 points per–game, an even higher mark than Durant's. Russell also enjoyed a career year before switching coasts to join the Warriors, averaging 21.1 points per game for the Nets. Green also offers hope for Golden State as well. While not a big-time scorer, Green remains a player dipping into all statistical categories at a modest rate each night, combining to form an impressive +7.0 PER last season.
IN MEMORIAM: SPORTS FIGURES WHO DIED IN 2019 TRIBUTE SLIDESHOW
Other factors outside Thompson's injury and Durant's departure continue to brew and shape as hurdles for the reigning Western Conference champs, however. Offseason moves such as the Los Angeles Lakers acquiring Anthony Davis, the Houston Rockets reeling in Russell Westbrook and the Los Angeles Clippers pairing Warrior slayers Kawhi Leonard and Paul George all elevate the outside forces looking to rip the conference's crown from Golden State's fingers.
Although Thompson offered no specific reasons to maintain hope regarding the exceedingly improved clubs that now oppose him and the Warriors, his steady confidence about all other matters gives reason to believe he remains, as he seemingly always appears, unworried.