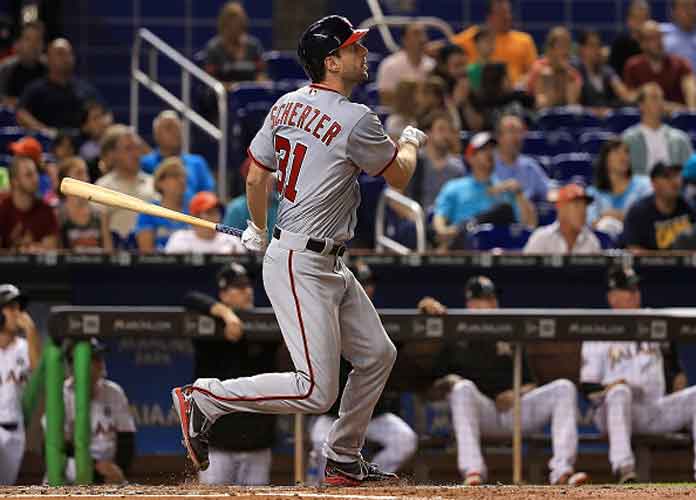 It was all a favorable game for the Milwaukee Brewers, until it wasn't.
A walk for Trent Grisham, followed by a home run for Yasmani Grandal made the game 2-0 immediately. It took 7 pitches for the Brewers to take a 2-0 lead in the first inning against the Washington Nationals. Max Scherzer was looking for his first playoff win as a National. He allowed another home run in the second inning to Eric Thames as the Brew Crew took a 3-0 lead. The game felt over right as it began.
It wasn't until a solo shot in the third by Trea Turner made the score 3-1 in the Brewers favor. And then there was nothing. From innings four through seven, both offenses were quiet. A double here, a man in scoring position there, but nothing really came close to changing the result of this game. Hope was fading for the Nationals.
It was all but over when the Brewers called in All Star reliever Josh Hader. Hader looked uncharacteristically shaky, but was still getting the job done. He struck out OF Victor Robles but got a bad call when Michael Taylor was hit by a pitch that arguably could've been ruled a foul ball as it hit the knob of the bat at around the same time it hit Taylor's hand. He struck out Turner and then the wheels fell off.
Ryan Zimmerman singled to center to put runners on the corners. Anthony Rendon, on a full count, walked to load the bases with two outs. Juan Soto came up to bat and on the third pitch lined one to right field to Grisham, who was replacing injured MVP, Christian Yelich. On a hit that at most should've tied the game, the ball went right under Grisham's glove and allowed the Nationals to clear the bases and take the lead in the bottom of the eighth, 4-3.
The Brewers season ended soon after, only getting a man on first in the final inning. As their season ends the Brewers watch in disappointment as a NLDS berth slipped right through their fingertips. Even after losing their MVP, they persevered. Even with a call that could've gone either way and an off day for an elite closer, the game just barely could not sink in the Brewers favor. The Nationals will face the Dodgers in the NLDS on October 3.
It was all a favorable season for the Milwaukee Brewers, until it wasn't.