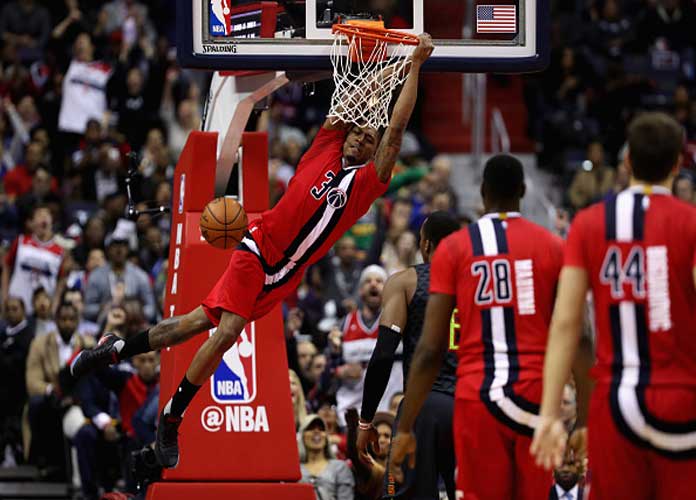 The Washington Wizards and guard Bradley Beal agreed to a two-year extension to his original contract worth an extra $72 million this week. This was to be his last year of the deal.
This is significant, as many believe it will change the course of free agency to come. An extension of this type and amount will allow Beal to potentially sign the largest contract in NBA history, since he will be in his prime at the end of the three years left: he will be 29 in 2022.
Beal told reporters on Thursday that he loves Washington, D.C. and hopes to stay there for the rest of his NBA career.
"I love DC," said Beal. "This is where I always wanted to be and this is where I wanna be for the rest of my career."
Beal and teammate John Wall both signed huge contracts that show the Wizards' confidence in their tandem. Owner Ted Leonsis signed large and long term contracts with both players early on in their careers before they had reached their prime, while they still showed promise. The most untested of these was Beal. Both players grew during their contract and their time on the team together.
SPORTS FIGURES WHO DIED IN 2019 – TRIBUTE SLIDESHOW 
Beal also had a history of injuries before the original five-year, $128 million dollar contract in 2017. After that deal, he had his most productive years and the Wizards reached the playoffs.
Given the fact that superstar players have been increasingly moving from franchise to franchise and teaming up with other stars recently, it seems like an old strategy to keep a young core intact with max contracts the way Leonsis is. Sure, this strategy has payed off with improvement. However, the Wizards have also been scrutinized for their other roster moves in the past.
Wall, who has had a problem staying healthy before his own max deal in 2013, will miss all of next season with a torn Achilles tendon. Meanwhile, Beal signed the contract mainly due to the future and what the franchise is doing to add to the roster.
"He's thrilled about all the resources that Ted is pouring into the franchise," said Beal's agent Mark Bartelstein, who added his client is "thrilled how committed [Leonsis] and [General Manager] Tommy [Sheppard] are to building something special."
The NBA season is just days away from starting. Staying healthy will be Beal's number one focus until then.