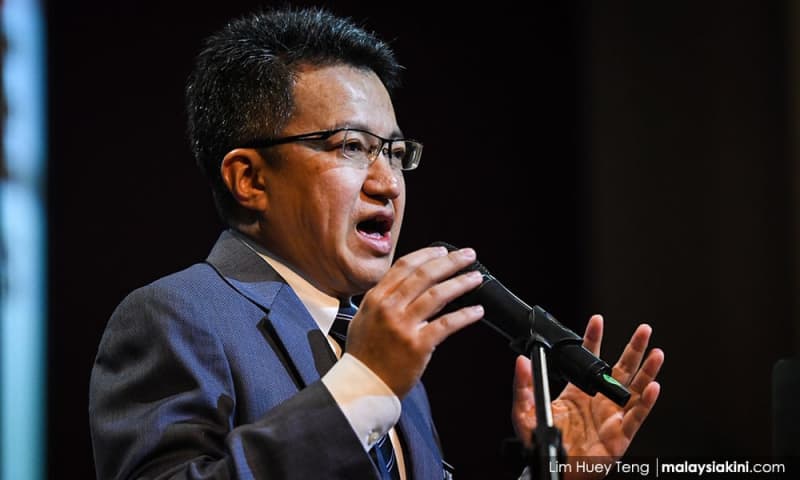 TG PIAI POLLS | Johor DAP chief Liew Chin Tong said he expected racial attacks against the Pakatan Harapan government to intensify if BN wins the coming Tanjung Piai by-election.
He said this is because such a victory would signal an endorsement of BN to continue with such tactics.
"A win for BN, represented by MCA on behalf of the Umno-PAS alliance, will embolden the opposition coalition's racial attacks on the Harapan government.
"By resorting to racial extremism, with the intention of breaking up the Harapan government over ethnic divisions, it will pave the way for the return of Najib Abdu Razak and Zahid Hamidi to power.
"Both are facing multiple corruption charges in courts," he said while on the campaign trail for Bersatu in Tanjung Piai today.
With the uphill battle, Liew conceded the by-election would have national consequences.
"If BN wins, they will take it that voters approve of their racial attempts to dislodge the legitimate Harapan government halfway into its term.
"I shudder to think of a coalition of parties with corrupt leaders and no clear reform agenda but merely race politics being in power, again," Liew, who is also deputy defence minister, said.
Liew said at present, BN was telling the Malay community that the government was dominated by the DAP while also telling the Chinese community that the DAP was subservient to Prime Minister Dr Mahathir Mohamad.
"Let me reiterate that both allegations are wrong, unfair and will be detrimental to our multiethnic society.
"Harapan is a coalition government negotiating decisions in a collegial manner through the cabinet and the Harapan presidential council.
"The Harapan government is not perfect but it deserves a full five-year term to implement its ideas and not to be dislodged mid-term by plots and conspiracies based on racial mobilisation," he said.
Meanwhile, PKR president Anwar Ibrahim said he believed Harapan could win support if it properly explains the challenges and measures that have been taken to address the problems in the country.
"That is why our duty is to explain to the people what we inherited and the measures that have been taken to deal with this.
"Sometimes that information is not conveyed so it is our jobs to do so. I am confident, God willing, that if they understand our difficulties in the government, they will support us," he told an event in Jempol today.
The two frontrunners in the Tanjung Piaiby-election are MCA's Wee Jeck Seng who is contesting under BN's logo and Bersatu's Karmaine Sardini who will contest under Harapan's banner.
The other candidates are Berjasa's Badhrulhisham Abdul Aziz, Gerakan's Wendy Subramaniam and independent candidates Ang Chuan Lock and Faridah Aryani Abd Ghaffar.
Campaigning began last Saturday and Tanjung Piai voters will go to the polls on Nov 16.
The by-election was called after its incumbent MP, Bersatu's Mohd Farid Mohd Rafik, passed away from a heart attack in September, just three weeks before his 43rd birthday.