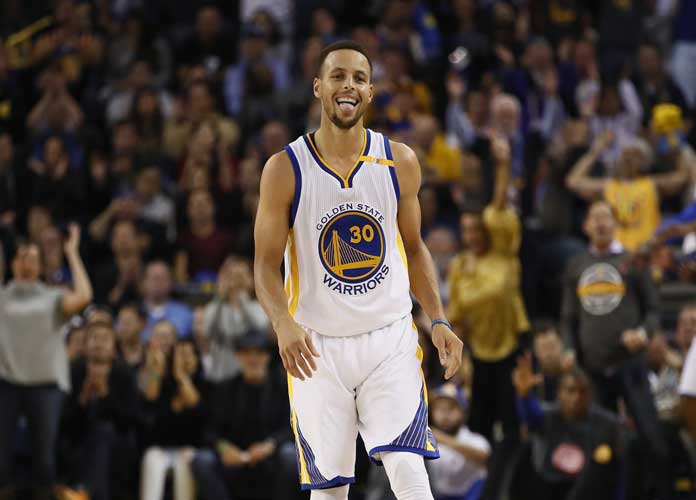 Last week, a report surfaced claiming Golden State Warriors guard Stephen Curry could miss the rest of the season. However, the Warriors were quick to refute this claim.
GET GOLDEN STATE WARRIORS TICKETS HERE!
On Monday, Curry addressed the media for the first time since breaking a bone in his hand. He emphasized that he expects to rejoin his team on the court before the end of the season.
"I definitely expect to be back and playing," said the three-time NBA champion. "I don't know when exactly but sometime in the early spring."
Curry also revealed that as a part of his rehabilitation plan, he will need a second surgery in order to remove the pins that were placed in his hand to aid recovery.
"I've never really broken anything or had a hand injury or anything like that before." Curry said, before revealing that the injury included some nerve irritation. "That's kinda why it took so long for the diagnosis because I had to go through so many tests. With nerves it's kind of tricky, I can either come back quickly or be out a sustainable amount of time with the surgery and swelling of the injury… Obviously when you're dealing with hands, that's where it gets tricky in terms of your feel and all of that."
In the meantime, however, six-time All-Star Curry avows that he has been working on bettering himself to ensure his effectivity upon his return to the hardwood.
"I've been kind of treating it like a mini offseason, work on your body, get some rest, build a new foundation for what type of player I want to be when I come back from injury, not miss a beat, maybe being better than before," he added.
SPORTS FIGURES WHO DIED IN 2019 – TRIBUTE SLIDESHOW 
Some downtime for Curry could be a good thing for him personally, as it could allow him time to recover and get stronger. The Warriors as a whole, however, have struggled so far this season. Nevertheless, Curry was quick to point out that recent struggles do not define Golden State as a team or as an organization.
"I just love the fight. I think Coach (Steve) Kerrmentioned it," said Curry. "You're not just going to sit and be OK with losing or whatever the narrative is. They're out there fighting every single night."
If one thing is for certain here, it is that the Warriors organization, fans and Curry himself are all eager to see #30 return to the court and sport the blue-and-gold jersey.
"I love to play basketball, have fun. I know Klay [Thompson] does, too," the two-time NBA MVP added. "We're some caged animals ready to get unleashed back to what we do."
As of now, Curry can be expected to return roughly in the early spring. However, that timeline is certainly subject to potential changes between now and then.