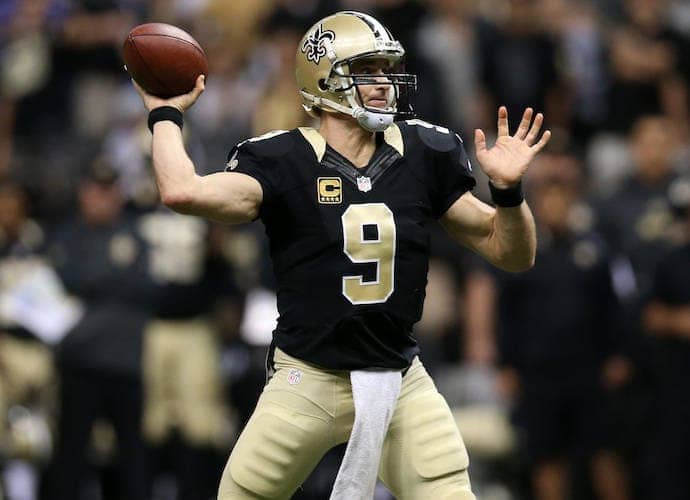 The 49ers beat the Saints 48-46 in an offensive battle on Sunday, but the game wasn't without controversy.
The Saints were yet again on the opposing side of a pass interference call they felt was warranted late in the third quarter. On a fourth down in their own territory, they attempted a fake punt pass with backup quarterback Taysom Hill in the game. He tried to throw to Tre'Quan Smith as he ran down the sideline to get open. Tarvarius Moore stayed close to him and held him before taking him down to the ground with the ball bouncing next to the players. Head Coach Sean Paytonwas arguing with official John Hussey about the contact, but under NFL Rules pass interference will not be called on a fake punt attempt. Payton went on to claim that Smith was held and thus the Saints should have the ball back, but Hussey shook his head and moved on.
When Payton was asked about the play postgame he responded, "I don't want to answer one officiating question today, so I won't. Sorry."
The Saints also failed to convert a two-point conversion on two occasions during the game. Going for two in games is a strategy the Saints don't stray away from especially for a top ten offense when Drew Brees is under center.
"We're going to play aggressive. We're going to take chances. We're not going to making excuses," Brees told the media.
The 94 points scored in the NFC matchup Sunday was the highest total scored in a game this season.  Both quarterbacks came to play with Brees completing 72.5 % of his passes with 349 yards and 5 touchdowns. Jimmy Garoppolo also threw for 349 yards with four touchdowns and one interception. The defenses on both teams were almost non-existent as many plays on both sides went for big gains. Emmanuel Sanders had a monster game for San Francisco catching seven balls for 157 yards, one receiving touchdown and a touchdown pass.  On that very play Garoppolo snapped the ball and handed it off to Deebo Samuel who continued running to his left before tossing it to the Sanders on the reverse. The trickery caught New Orleans off guard as Sanders scrambled for a second before throwing it to Raheem Mostert for an easy trot into the endzone.
On the last drive of the game, San Francisco had the ball with 39 seconds left on 4th and 2 down 46-45 on their own 33-yard line. Needing to get into field goal range Garoppolo threw a short pass to Kittle who ran for a first down dragging defenders with him and simultaneously drawing a face mask penalty that added on 15 yards to the play.  This set up the game winning 30-yard field goal by Robbie Gould.
San Francisco's 11-2 record is tied for the league best with Baltimore and they are just one game ahead of the Seahawks who sit at 10-3 in the NFC West.