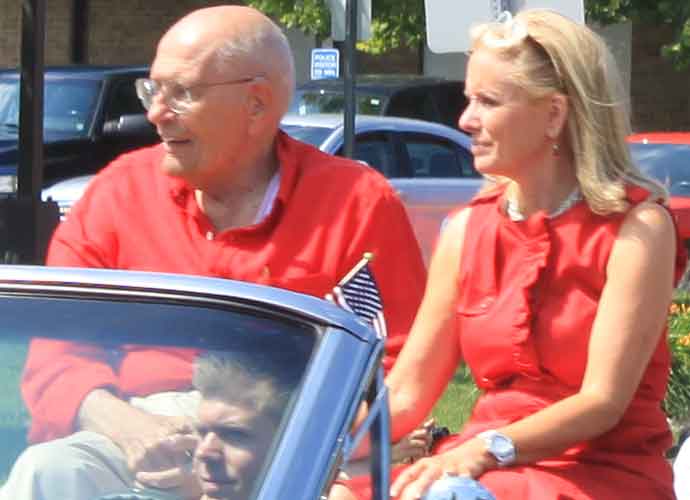 President Donald Trump sparred Rep. Debbie Dingell (D-Michigan), during a "Merry Christmas" campaign rally in Battle Creek, Mich. on Wednesday, saying that her late husband Rep. John Dingell was "looking up" from hell.
"Debbie Dingell, that's a real beauty," Trump said to the riveted Michigan crowd who booed the mere mention of John Dingell.
SLIDESHOW: TOP DEMOCRATS RUNNING FOR PRESIDENT IN 2020
Trump reported that he gave the family "A+ treatment" after John Dingell died, and that Debbie Dingell had called him to thank him for his efforts, stating, "it's the nicest thing that's ever happened, thank you so much. John would be so thrilled. He's looking down."
Trump made the rejoinder to the Battle Creek audience, stating, "I said, 'That's ok. Don't worry about it.' Maybe he's looking up. I don't know."
The remark about the longest-ever serving congressman drew mixed reactions from the Michigan audience – a critical swing state that has long revered John Dingell.
Debbie Dingell, who voted to impeach the president Wednesday, responded on Twitter, saying, "Mr. President, let's set politics aside. My husband earned all his accolades after a lifetime of service. I'm preparing for the first holiday season without the man I love. You brought me down in a way you can never imagine and your hurtful words just made my healing much harder."
Her colleague, Rep. Fred Upton (R-Michigan) said, "there was no need to 'dis' him in a crass political way. Most unfortunate and an apology is due."
Trump's Battle Creek cracks at John Dingell marked the second time in five days that he has mentioned the deceased's funeral while insulting the congresswoman, who has supported impeachment.