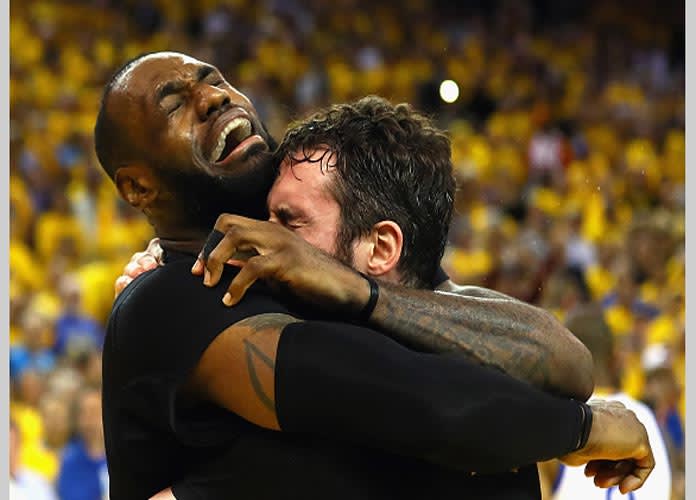 The Cleveland Cavaliers won their first NBA Finals in 2016, but it was not without its controversy. Kevin Love spoke out this week regarding a cryptic message LeBron James tweeted during their time together.
Love was traded to the Cavaliers in 2014 where he went from being the first option on offense to the second, or even third. Apparently, this was not an easy adjustment for him and the team. Love expressed his thoughts about the fit in/out thing recently, when he spoke with Jason Lloyd of The Athletic:
GET DEALS ON CAVALIERS TICKETS HERE!
"I think on one end it was extremely passive-aggressive and silly, but at the same time, I feel like I did have to find my way and fit in. But it wasn't an easy process for me. I think right now if that happened — it wouldn't because I believe who I am now and the growth I've had — but I truly believe that you have to understand. " Love said, "That's why I never make assumptions. We've talked before about 'The Four Agreements,' right? Never make assumptions, never take anything personally. Well, obviously I took that personally. I wish I could've handed them that book and been like, 'Listen, you've got to understand what it was like to be the main focus, 20 shots a night, be 'the guy.'"
"My star dimmed a little bit to have to sacrifice. So at least just acknowledge it. All I wanted was a little bit of love. All I wanted was (a pat on the back, an arm around the shoulder). I never got that. I think I just wanted a little bit of love. Not even notoriety, just an acknowledgment of, 'Hey, listen, we know that you're sacrificing.' That was not there the first year. I think Champ (James Jones) helped me to understand, 'Listen, just be yourself and everything else will fall into place.' But to really fully get there, it took me a year and some change."
Love was averaging over 26 points per game and 12.5 rebounds while with Minnesota, but dipped the first year with the Cavs to 16 points per game and 9.7 rebounds while shooting almost six less points.
30 SPORTS FIGURES WHO DIED IN 2018 – TRIBUTE SLIDESHOW 
Rumors have been circulating that Cleveland is looking to trade Love.