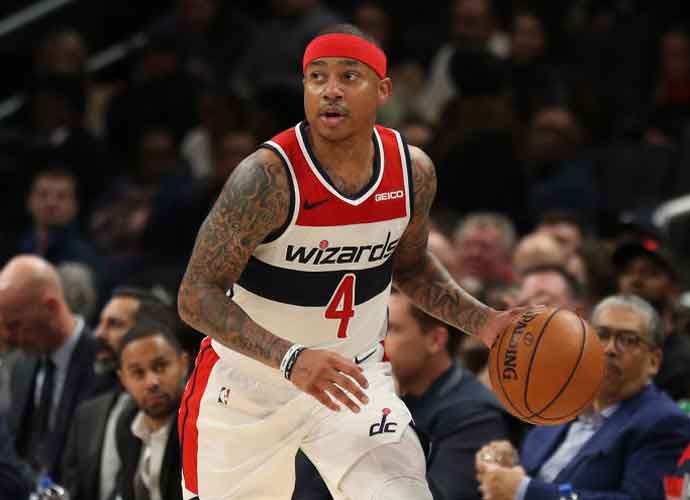 Isaiah Thomas has been suspended two games for entering the stands to confront a Sixers' fan in the Wizard's loss to Philadelphia Saturday.
Reportedly the situation started when Thomas was at the free throw line late in the fourth quarter. He visited the charity stripe where he missed his first attempt and made the second with the Wizards down 15 with three minutes left. After the Wizards called a timeout, the point guard made his way into the stands to confront two people who Thomas says were cursing at him while he was shooting the free throws.
His body language was calm, and it never seemed like things were going to get physical, but Thomas was ejected as he returned to the court. He claimed the fan had "both of his middle fingers up and said, 'F— you, b—-,' three times," Thomas told ESPN.
"I said: 'Don't be disrespectful. I'm a man before anything. Be a fan.' The fan responded, 'I'm sorry, I just wanted a Frosty,'" Thomas said. The former all-star also said he learned that the arena has a popular promotion that rewards all fans with a Wendy's "frosty" if an opposing player misses two consecutive free throws in the second half.
Clarification on the ejection was posted by NBA officials on NBA.com which read, "NBA rules state that any player who deliberately enters the spectator stands during a game will be automatically ejected and subject to a fine and/or suspension.  This bright-line rule is intended to prevent altercations or other hostile interactions between players and fans, for the benefit of both, and is therefore enforced even in circumstances such as these when the encounter between Thomas and fans did not escalate."
In October the NBA created a zero tolerance policy for abusive or hateful behavior by fans after notable incidents occurred with multiple star players including Kyle Lowry, DeMarcus Cousins and Russell Westbrook.
The fan who had the exchange with Thomas, and another spectator have been banned from the Wells Fargo Center for one year. Those two fans admitted to using inappropriate language and gestures towards Thomas, which violated arena policy and the NBA code of conduct. The season ticket holder of those seats, who gave both fans the tickets, had his season tickets taken away and will receive a refund for the rest of the home games this season, according to the 76ers.
Thomas voiced his frustration with the suspension and tweeted, ""Bulls—," on Sunday night.