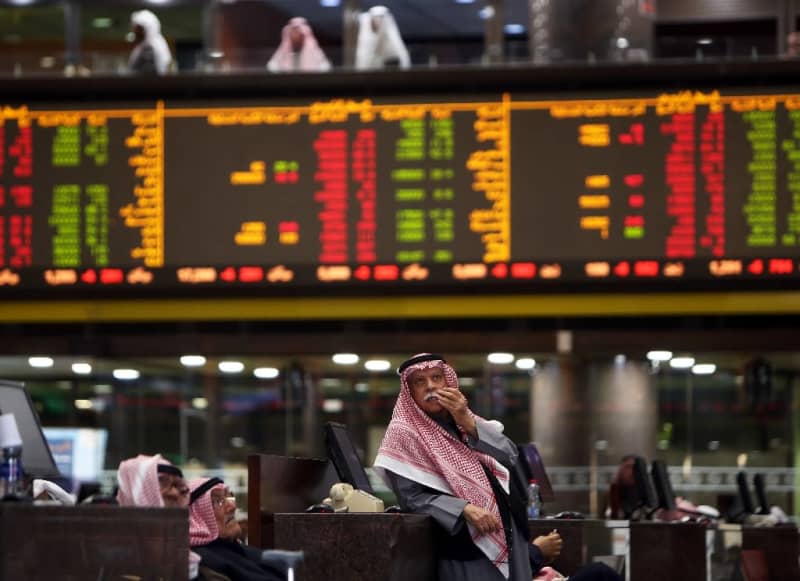 New York (AFP) - Global stocks were mixed while oil prices retreated Tuesday as investors continued to weigh the potential economic impact of escalating tensions between the United States and Iran.
Wall Street stocks finished lower despite solid US economic data, underscoring unease in the war of words between Washington and Tehran after the US killing of powerful Iranian General Qasem Soleimani.
Stocks have been choppy since the killing, with analysts noting that prior stock declines following geopolitical tensions usually do not persist once the initial shock wears off.
"On the one hand, we still don't know what to make of what's coming out of Iran. On the other, the economic data is just too good to ignore," analyst Chris Low of FHN Financial said.
The Commerce Department reported that the US trade deficit hit its lowest level in three years in November, while the Institute for Supply Management's services index rose solidly in December.
Earlier, stock indices in London and Paris ended essentially unchanged, while Frankfurt had gained 0.8 percent.
Asian markets had been broadly higher earlier in the day, with Tokyo closing up 1.6 percent, Hong Kong adding 0.3 percent and Shanghai rising 0.7 percent.
Iran remained near the forefront, with President Donald Trump and other US officials insisting there are no plans to withdraw American troops from Iraq, where the killing took place using a drone strike.
More than 50 people were killed in a stampede during a massive funeral procession for Soleimani. Iranian lawmakers voted to designate all US forces around the world "terrorists" over Soleimani's killing.
Still, oil prices pulled back -- at least for now.
"The lack of immediate response or direct escalation may have removed some upside tail risk, but the principle threat remains the possibility of Iran targeting shipping in the Hormuz Strait or production/export infrastructure in Saudi Arabia," Robbie Fraser, senior commodity analyst at Scheider Electric, said in a commentary.
"Those threats will remain key risk factors for the foreseeable future under current geopolitical conditions."
Among individual companies, Goldman Sachs added 0.7 percent as it disclosed additional details about its financial structure ahead of an investor day later this month.
The prestigious bank is focused on boosting its valuation after a lengthy period of sideways trading.
Key figures at 2145 GMT
New York - Dow: DOWN 0.4 percent at 28,583.68 (close)
New York - S&P 500: DOW 0.3 percent at 3,237.18 (close)
New York - Nasdaq: DOWN less than 0.1 percent at 9,068.58 (close)
London - FTSE 100: FLAT at 7,573.85 (close) 
Paris - CAC 40: FLAT at 6,012.35 (close)
Frankfurt - DAX 30: UP 0.8 percent at 13,226.83 (close)
EURO STOXX 50: UP 0.2 percent at 3,759.25 (close)
Tokyo - Nikkei 225: UP 1.6 percent at 23,575.72 (close)
Hong Kong - Hang Seng: UP 0.3 percent at 28,322.06 (close)
Shanghai - Composite: UP 0.7 percent at 3,104.80 (close)
West Texas Intermediate: DOWN 0.9 percent at $62.70 per barrel
Brent Crude: DOWN 0.9 percent at $68.27 per barrel
Pound/dollar: DOWN at $1.3118 from $1.3171 at 2200 GMT
Euro/pound: DOWN at 84.94 pence from 85.01 pence 
Euro/dollar: DOWN at $1.1146 from $1.1197 
Dollar/yen: UP at 108.42 from 108.37 yen
burs-jmb/hs