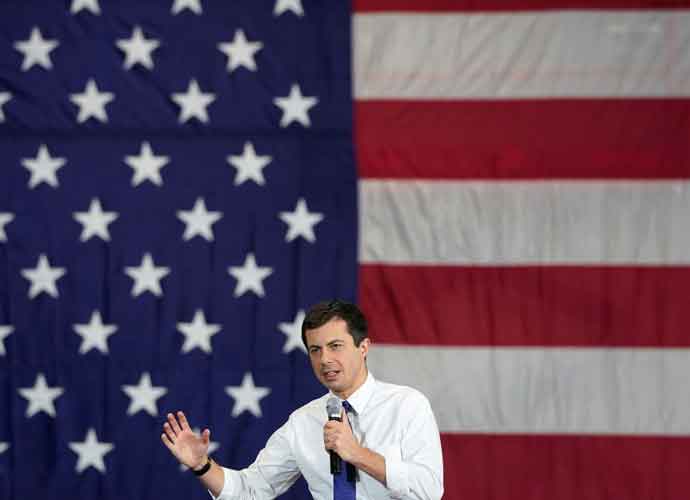 A CBS News/YouGov Battleground Tracker poll published Monday shows a heated, three-way tie between three Democratic presidential candidates: former Vice President Joe Biden, Sen. Bernie Sanders (I-Vermont) and South Bend, Indiana Mayor Pete Buttigieg. 
The survey comes exactly four weeks before the Iowa caucuses begin on Feb. 3 to kick off the 2020 primary season. Sens. Elizabeth Warren (D-Massachusetts) and Amy Klobuchar (D-Minnesota) trail behind the three frontrunners with 16% and 7% support, respectively.
The poll also shows Sanders in first place in New Hampshire with 27% backing, while Biden (25%) is in second and Warren (18%) is in third.
Participants in the survey — registered Iowa Democrats — were also asked which candidate they believe is most likely to defeat President Donald Trump in the election, and most respondents (38%) chose Biden. Sanders (29%), Warren (24%) and Buttigieg (21%) followed in this respect.
SLIDESHOW: DEMOCRATS RUNNING AGAINST TRUMP IN 2020
Buttigieg enjoyed a significant surge in support late last year following strong performances in the November and December Democratic debates, where he demonstrated his vast knowledge of issues like foreign policy and the economy. The 37-year-old young mayor has cemented his status as a progressive who remains a viable alternative to even more far-left candidates like Warren and Sanders.
The CBS poll also follows the Trump administration's decision to kill top Iranian general Qasem Soleimani, a move that has escalated tensions with Iran and has prompted several different reactions from 2020 Democratic candidates.
In an interview on MSNBC on Monday, Buttigieg blasted the decision regarding Soleimani, saying, "You don't surprise Congress [with a military strike]."
In Iowa on Friday, Biden correctly predicted that Iran would enrich its nuclear capabilities as a form of retaliation for the attack and blasted the Trump administration for "putting an extremely dangerous problem that our administration had solved and put on the back burner back on the table," referencing the nuclear non-proliferation deal the U.S. reached with Iran under Barack Obama in 2015.
The CBS poll was conducted between Dec. 27 and Jan. 3 and has a margin of error of plus or minus 3.8%.
Since 1976, the winner of the Democratic caucus in Iowa has gone on to become the party's nominee for president 7 out of 9 times.PoliticPolit