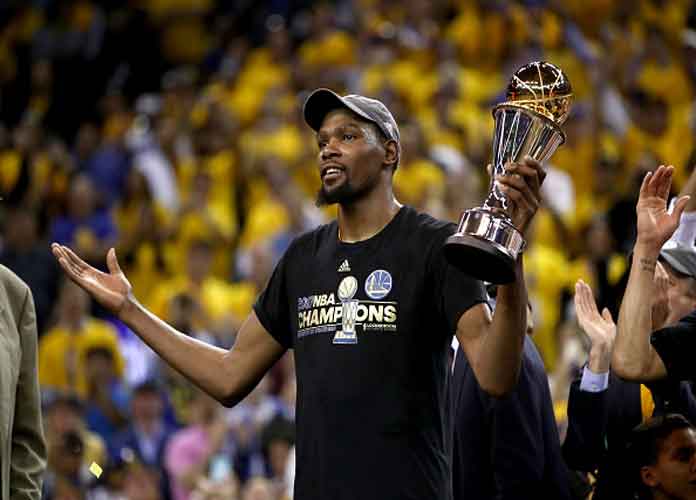 Kevin Durant is no stranger to social media exchanges and was once discovered using burner accounts to criticize the Thunder on Twitter in 2017. On Thursday night, Durant got involved in a back and forth Twitter spat with former Thunder teammate and current ESPN NBA analyst, Kendrick Perkins.
Initially, Perkins was on Twitter to announce his next segment on ESPN SportsCenter. The former NBA center tweeted, "In about 30 minutes I'm going to give my opinion on @SportsCenter on why Believe that Russell Westbrook is the best player to have ever put on a Oklahoma City Thunder Jersey!!! He is MR. THUNDER!!!" 
SLIDESHOW: 50 GREAT SPORTS FIGURES WHO DIED IN 2019
Celtics' analyst Marc D'Amico tweeted in response, "He put together the best career within that organization, but he's definitely not the best player to have ever put on a jersey for them. Cmon Perk!"
Perkins tweeted back, "Hey Kevin left the door open and Russ walked right in."
D'Amico replied, "I think Russ walked right into the door called 'Second Round of the Playoffs' – THREE STRAIGHT TIMES!"
The next tweet must have got Durant's attention after Perkins said, "KD lost in the second round without Russ when I was there. So what that mean?"
Durant joined the conversation and didn't hold anything back when he attacked Perkins. "Yea and our starting center @KendrickPerkins averaged a whopping 2 and 3 during that series. U played hard tho champ lol," Durant tweeted.
Perkins responded with a harsh tweet that attacked Durant's decision to join the Warriors in 2017. "Boy stop you did the weakest move in NBA History!!! Up on a team 3-1 in the western conference finals and then go join them the following season?! Heart of Champion right there."
Durant fired back claiming, "Weak is starting at center, playing real minutes with no production. Should've worked on your skills as much as I did."
Perkins then echoed a sentiment that many critics of Durant agree with. "That's fine!!! You worked that hard and still had to go join a 73-9 team. Truth be told you don't even feel like a real Champ, you have hard time sleeping at night huh knowing that you took the coward way out!!!"
Durant most recently signed with the Brooklyn Nets in July on a four year, $164 million contract, but will continue to sit out this season to nurse a ruptured right achilles tendon that he suffered in Game Fve of last year's NBA Finals.