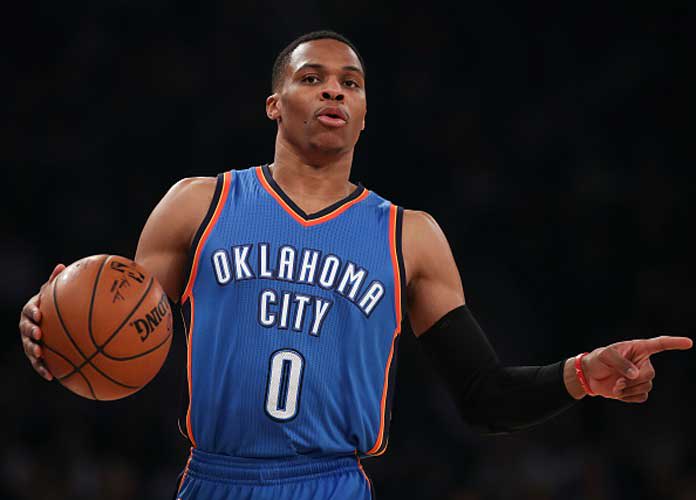 Russell Westbrook had an emotional return to his former home as the Rockets visited Chesapeake Energy Arena in Oklahoma City Thursday night. The former Thunder all-star spent his last 11 seasons there before getting traded to Houston this past offseason.
As Houston's starting lineups were about to be announced, a video played showcasing Westbrook's greatest moments in a Thunder uniform. The tribute included highlights, spine-tingline celebrations and footage of his community service. After the conclusion, the crowd echoed chants of "MVP! MVP! MVP!" Westbrook then ran from the Rockets' bench to the opposing sideline and pumped up the crowd while holding one finger in the air. As the former MVP smiled, the crowd gave him a rousing ovation.
"Man, some things you can't put into words, just because I've been here so long, so many great memories, great people," Westbrook told the media. "Obviously, the best fans in the world, because they come with it, and tonight they came with it. The organization, Sam [Presti], Mr. [Clay] Bennett, they do an amazing job of just making you feel home. And I felt like I was home."
Prior to warm-ups the eight-time all-star strolled into the arena with a black t-shirt that read "ZERO REGRETS" on the front with his all-time Thunder stats listed on the back below the phrase "1 TEAM." Following his stats on the bottom of the t-shirt it read "O REGRETS." His Jordan WhyNot Zero.3 shoes featured Thunder colors and writing that read "THANK YOU." Westbrook had a game-high 34 points as the Rockets fell to the Thunder 113-92.
"I don't regret one thing being here in Oklahoma City. I don't regret signing back. I don't regret staying here. I don't regret anything that I did here. I feel like I left everything out on the floor every single night and did what I could for the city," Westbrook told ESPN.
Following the game he was seen hugging former teammates and team owner Clay Bennett. As he exited the floor, the remaining fans gave him a standing ovation as he pointed again towards the rafters.
"It's special," Westbrook said. "It's a very, very special thing that meant a lot to me, honestly. Coming back here, just making me feel that I was very, very appreciated."