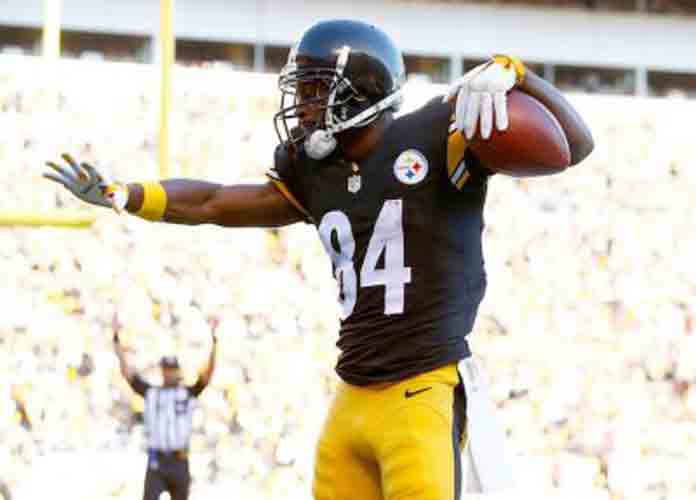 The Hollywood, Florida, police returned NFL star Antonio Brown's donation to their youth football league after his inappropriate public outburst Monday. Brown went live on Instagram after he called the police claiming his Bentley had been stolen by his ex-girlfriend Chelsie Kyriss. Brown has also attempted to evict her from one his homes.
"We made the decision to sever ties between Mr. Brown and the Hollywood Police Athletic League," public information officer Christian Lata wrote in the statement. "We did not want our youth to be subject to this type of behavior nor emulate the actions of Mr. Brown."
Brown had previously donated to the youth 7-on-7 football league, but had his contribution returned on January 9. Lata also wrote, "We will not take money from a donor that we cannot have our youth be proud of or represent our organization." He is also not allowed on the athletic league premises because the police "did not want him to continue to affect our youth nor influence them in a negative way."
30 SPORTS FIGURES WHO DIED IN 2018 – TRIBUTE SLIDESHOW 
In the video obtained by TMZ, Brown is seen yelling from his front lawn at local law enforcement and cursing in front of Kyriss and their children. He allegedly asked Hollywood police for help and wants to get a restraining order against his former girlfriend. At one point Brown says, "Is there any justice for a black man in America?"
Recent incidents have damaged the relationship between Brown and the Hollywood Athletic League, according to law enforcement officials. On Monday morning, Brown responded to their statement via Twitter.
After the argument, Kyriss posted text messages from Brown on her Instagram. Brown allegedly said, "U going to be back here we going to recommit for our boys u hear me then I want to feel your love no more basic I miss u. can I feel your love." Following the incident Brown posted photos of himself and new girlfriend Stephanie Acevedo. According to court documents obtained by the Blast, a Florida judge has given the former couple 60 days to work things out prior to an official mediation.