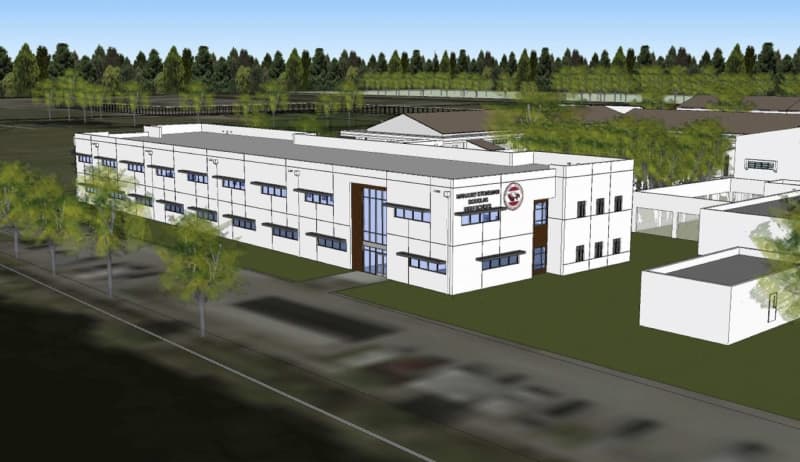 PARKLAND, Fla. — The long-awaited replacement to the building that was the site of the Parkland school shooting is scheduled to open in time for the new school year in August, officials say.
Broward County school officials held a news conference at Marjory Stoneman Douglas High to discuss progress on the new building. At 45,000 square feet, it's about the same size as the old building but will only have two stories instead of three, district officials say.
"The building is progressing very smoothly and quickly and will be ready for the start of next school year," said School Board member Lori Alhadeff, whose daughter Alyssa was one of the 17 murdered at the school on Feb. 14, 2018.
The building where the shooting happened remains on campus, even though it's been unoccupied and the district has state money to demolish it. That's because the state attorney's office has declared it a crime scene and won't let it be torn down until the end of the trial and sentencing for the confessed killer. The trial is scheduled to start this summer.
The district also has $1 million from the state for a memorial, but those plans remain uncertain. Initial plans were to place the memorial on campus, but plans now are to locate it somewhere off-campus more accessible to the community, Alhadeff said.
"We want people to go to the memorial, but we don't want them to be on campus because of security," she said.
A committee is handling logistics but no location, completion date or specific location has been determined, Alhadeff said.
The replacement building was designed by Zyscovich Architects, and James B. Pirtle Construction is overseeing the project.
The district is also planning a $13.6 million renovation to the rest of the campus, which is part of the $800 million bond passed by voters in 2014. Construction was supposed to start in 2019 but has been delayed until spring or summer, according to a schedule released last month. The completion date for that project has been pushed back from June 2021 to May 2022.
———
©2020 Sun Sentinel (Fort Lauderdale, Fla.)