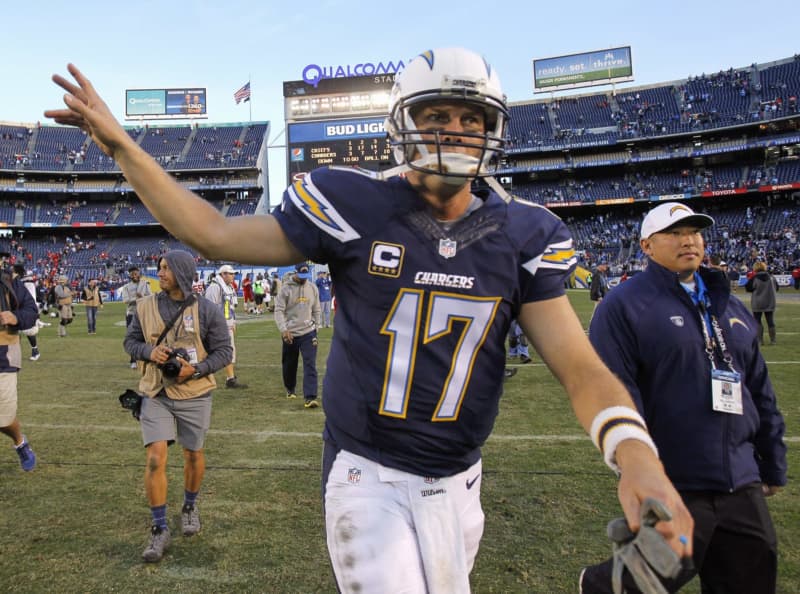 SAN DIEGO — Moving vans are simple. They can mean two things: Coming or going.
In or out.
In this case, Philip Rivers, one of San Diego's foremost citizens and population suppliers, has packed up his considerable family and scores of bolo ties and is going. Out.
He's gone. Away. Never got the parade down Broadway he deserved.
What are we to make of this, and how will the accomplished quarterback of the San Diego Chargers-turned-Carson Judases/L.A. Lodgers be remembered?
It seems certain the quarterback's detente with his only team, which unwisely left without his blessing, has ended. And, as if San Diego were Dodge, he's getting the hell out of it.
Can't blame him a bit. Whatever he wants to do is all right with me. He's been terrific on and off the field. Mr. Available. Maybe the greatest talking QB — ever. Gamer. He's always deserved the best.
But, now that he's moved to what was his summer home on the Florida Panhandle — so near to his beloved Alabama, where he always vowed to return one day to (like his dad) coach prep football — will he get the "best" in his athletic dotage?
He's certainly not hopping into a converted van every morning and motoring to the Costa Mesa Lima Bean Farm. He can't win with the Lodgers, anyway.
A free agent at 38, Philip says he wants to continue playing, but I can't believe, at his age, he will go to a team with no chance at a title. Tampa Bay is a big rumor, but he's not getting jewelry there. The Bucs would be foolish to lose Jameis Winston, mercurial as he might be.
Tennessee could work. The Titans are good, but will they rid themselves of Ryan Tannehill, coming off a good season? Will they hold on to Derrick Henry? Rivers had more weapons with the J's than Ryan did in Nashville, and Philip didn't accomplish squat with what he had.
New England? Tom Brady may be gone and, while they may not be loaded with skill, always have a puncher's chance. The Raiders? Jon Gruden loves Rivers, and he doesn't swap Valentines with Derek Carr, but Vegas isn't ready yet. Carolina? Is Cam Newton done? Can the Panthers win?
Bad teams are drafting quarterbacks and aren't getting rings with Rivers as a bridge.
Philip can't be doing it for place and show anymore. He sure doesn't need the money.
His quarterback clock is ticking like mad. He needs a Super Bowl. It's almost impossible to see where he's going to find one — as a starter.
And he ain't no scrub.
———
©2020 The San Diego Union-Tribune