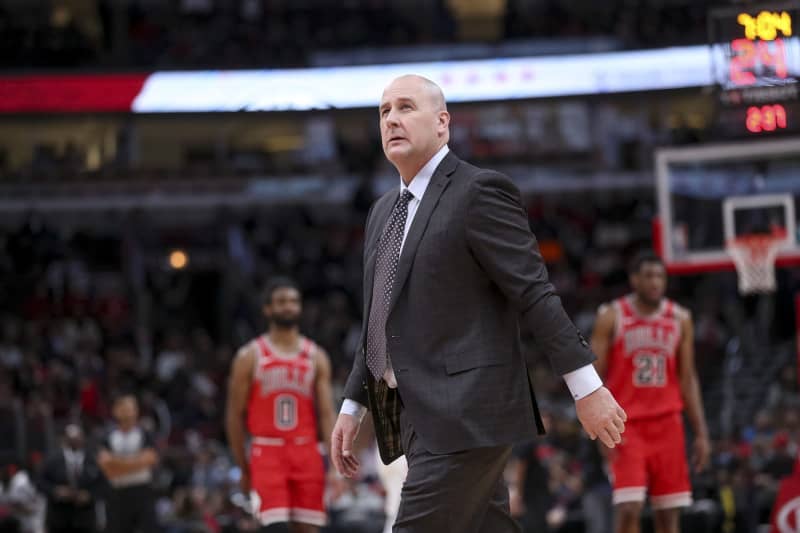 CLEVELAND — There were about two minutes remaining before the second half began Saturday when Zach LaVine walked toward the sideline and sat atop the scorer's table.
He had finished warming up at halftime, putting up shots mostly at the free-throw line, so while players from both teams kept shooting, he had a chance to stop and catch his breath. It was LaVine's final moment to sit and watch before he continued to take over the game.
LaVine put together one of his best all-around games Saturday night, scoring 44 points, grabbing 10 rebounds and recording eight assists to lead the Bulls to a 118-106 victory against the Cavaliers. Although he just missed his first career triple-double, LaVine scored 40 or more points for the fourth time this season, tied for the third-most such games in the NBA.
He played the entire third quarter and led the Bulls' charge as they outscored the Cavs 40-19 to take control.
On Friday, LaVine had spent the night crowded and frustrated by Kings defenders in a 98-81 loss at the United Center. Every time he drove the ball toward the paint he was met with double and triple teams, a potential preview of how difficult his life on the basketball court was about to become without forward Lauri Markkanen (right pelvis injury) to help space the floor. But LaVine has been tasked with carrying this Bulls offense all season and showed once again Saturday that he is up to the task.
Meanwhile, the Cavs — who blew a 19-point lead and gave up 42 points to LaVine one week ago at the United Center — had no answer for LaVine once again. He raced out with 27 points in the first half, a signal that he was on his way to another scoring barrage. LaVine shot 16-for-30 from the field and 5 of 12 on 3-pointers.
Tomas Satoransky added 19 points, six rebounds and six assists for the Bulls. Kevin Love led the Cavs with 20 points and 11 rebounds.
———
©2020 Chicago Tribune