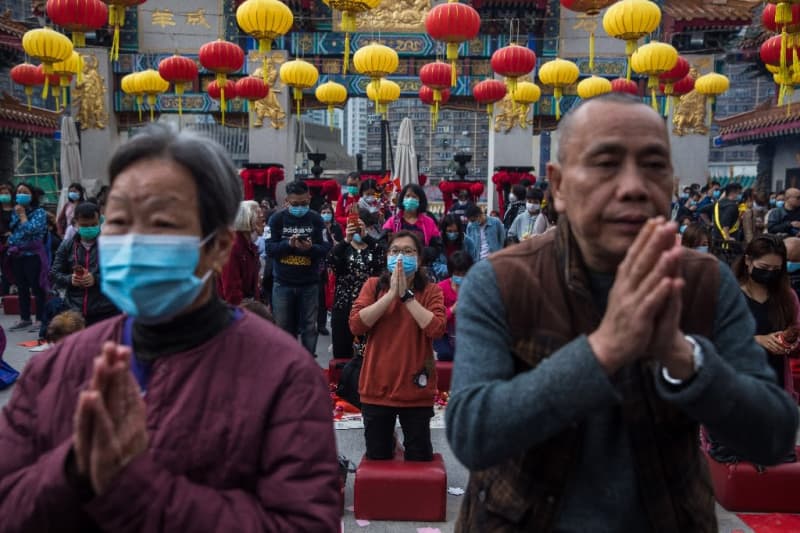 New York (AFP) - Global stocks rallied strongly Tuesday as fears eased over an economic hit from the coronavirus outbreak in China even as the number of cases continued to rise.
Major indices in Asia, Europe and the US all gained one percent or more, with analysts citing economic stimulus measures by the People's Bank of China for cushioning the blow in that country, as well as the extremely limited spread of the ailment so far in the United States.
The dollar largely firmed while the pound recovered, after the sharp decline Monday triggered by Britain and the European Union offering very different ideas regarding their future trade relations following Brexit.
The main focus of markets remained authorities' efforts to contain an outbreak that has now infected over 20,000 people and killed more than 425, more than the SARS epidemic that hammered Asian economies in 2003.
Despite more cases, the rise "was not enough to cause panic on Wall Street, or to increase the fear that China and other countries won't be able to get it under control," said Tom Cahill, portfolio strategist at Ventura Wealth Management.
Investors "are still hoping that the Chinese government's measures against the growing spread of the virus will be effective" (and that) Beijing provides more economic support in the near future," said Milan Cutkovic, analyst with AxiTrader.
But World Bank President David Malpass said the international development lender plans to revise its global growth forecast downwards due to the outbreak, on an expected slowdown in China and the likely hit to global supply chains that depend on the country.
"There will be a lowering of forecasts for at least the first part of 2020, in part due to the China, in part due to the supply chains," Malpass said.
"A lot of Chinese goods come out to the rest of the world in the belly of aircrafts that are carrying passengers," Malpass said, and those flights have been canceled.
Oil prices remained under pressure, even as officials with the Organization of the Petroleum Exporting Countries convened a two-day meeting of a "joint technical committee" in Vienna to discuss the virus's impact and whether an output reduction is needed.
Among individual companies, Tesla surged 13.7 percent, adding to a nearly 20 percent rise Monday as it continued to reach new records following a run of strong results.
Most other leading technology companies also advanced, including Apple, Amazon and Netflix, all of which won at least two percent.
An exception was Google-parent Alphabet, which slid 2.6 percent after reporting fourth-quarter sales that missed expectations despite stellar growth at YouTube and in their cloud-oriented businesses.
Key figures around 2140 GMT
New York - DOW: UP 1.4 percent at 28,807.63 (close)
New York - S&P 500: UP 1.5 percent at 3,297.59 (close)
New York - Nasdaq: UP 2.1 percent at 9,467.97 (close)
London - FTSE 100: UP 1.6 percent at 7,439.82 (close) 
Frankfurt - DAX 30: UP 1.8 percent at 13,281.74 (close)
Paris - CAC 40: UP 1.8 percent at 5,935.05 (close)
EURO STOXX 50: UP 1.9 percent at 3,732.28 (close)
Shanghai - Composite: UP 1.3 percent at 2,783.29 (close)
Hong Kong - Hang Seng: UP 1.2 percent at 26,675.98 (close)
Tokyo - Nikkei 225: UP 0.5 percent at 23,084.59 (close)
Euro/dollar: DOWN at $1.1046 from $1.1060 at 2200 GMT
Pound/dollar: UP at $1.3029 from $1.2995
Euro/pound: DOWN at 84.76 pence from 85.11 pence
Dollar/yen: UP at 109.52 yen from 108.69 yen
Brent Crude: DOWN 0.9 percent at $53.96 per barrel
West Texas Intermediate: DOWN 1.0 percent at $49.61 per barrel