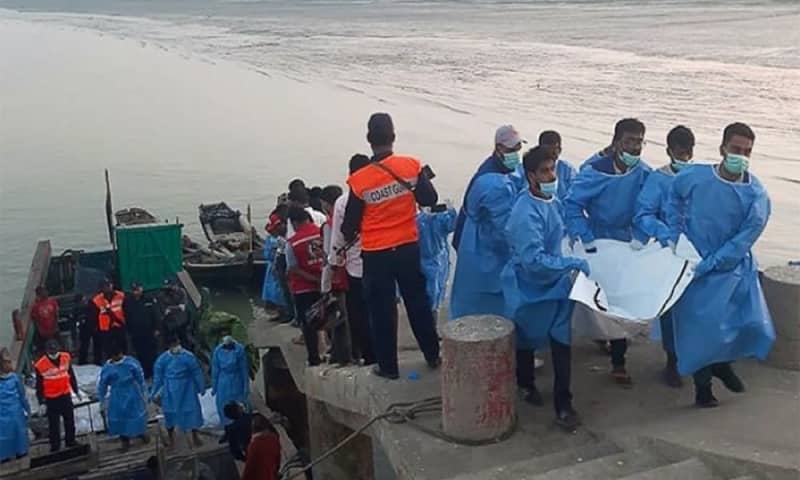 Many onboard a crowded boat that sank off the coast of Bangladesh yesterday, which killed 15 women and children, were human trafficking victims being smuggled into Malaysia to become brides, international news agencies reported.
Seventy of the estimated 130 refugees on board the 13-meter long fishing trawler were rescued, Bangladeshi officials said.
Of the survivors, two are suspected traffickers who are being interrogated by the authorities, BBC Bengalireported.
Among the Rohingya refugees on the boat were young women who were to be smuggled into Malaysia as brides, Cox's Bazaar police superintendent Masud Hossain said.
Naval officer in charge SM Zahidul Islam said patrolling naval and coastguard vessels found the capsized fishing trawler near the St Martins islands, and are searching for another boat believed to also be trafficking refugees.
"We haven't found any sign of the second boat yet. We will continue our operation," Islam said.
Those on board told rescuers they paid around forty thousand rupees (close to RM2,000) per head to traffickers to make the 2,000 kilometre journey, he said.
They also told rescuers they had relatives in Malaysia, he said.
In a joint statement, the International Organisation for Migration (IOM) and the UN refugee agency offered support for survivors.
"UNHCR and IOM are saddened by this tragic loss of life and, together with our other UN and NGO partners, are standing by to offer assistance to the (Bangladeshi) government in responding to the needs of the survivors, be it food, shelter, or medical (care)."
An estimated one million Rohingya people have tried to cross the seas to reach Malaysia from the overcrowded refugee camps of Cox's Bazaar in Bangladesh, Al Jazeerareported.
Earlier, the news network also reported how Rohingya women and girls are trafficked from these refugee camps to become brides for Rohingya men living in Malaysia.
Since last year, Bangladesh enforcement agencies have picked up more than 500 Rohingya as they waited to board boats to leave Bangladesh.
At least seven suspected traffickers were shot dead in 2019 in clashes with police, it reported.
Trafficking increases during the November to March period when the sea is calmer, making it possible for small fishing trawlers to make the trip. In 2015, an estimated 25,000 Rohingya left Bangladesh and Myanmar on boats trying to get to Thailand, Malaysia and Indonesia. Many of those boats sank.