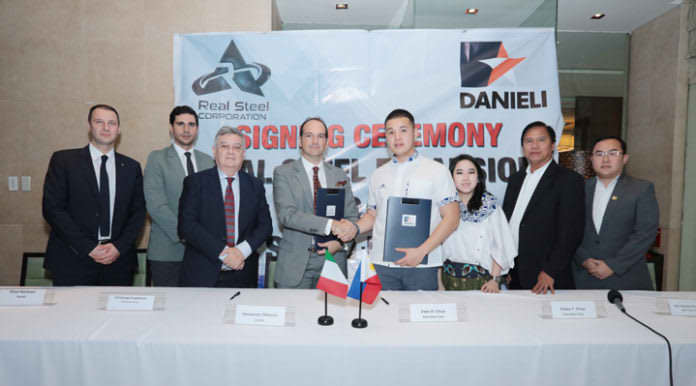 PAMPANGA-BASED Real Steel Corporation (RSC) recently signed a contract with Italian steel equipment manufacturer and designer Danieli Group to build what would be the Philippines' first high-speed rolling mill.
The partnership will involve building a plant that produces high-quality steel rebars using fully automated and environmentally sound technology. Danieli Vice President Federico Rocchetti said the steel plant will follow the global trend of the market toward green steel, using the induction heating system to eliminate pollution caused by using natural gas or oil in heating steel.
"Many of the solutions we implement are included in this new high-speed rolling mill, especially features in technology that improve environmental impact and safety," added Danieli Chief Executive Officer Alessandro Menocci.
Real Steel Chief Finance Officer William Chen said the new facility is expected to be operational in 2022. He added that this would also become one of the fastest rolling mills in Asia. "RSC will continue to strive for excellence in technological advancement and modernization to improve quality of our products using clean and energy efficient equipment," said Chen.
San Simon Mayor Abundio Punsalan Jr. expressed his approval for the partnership, saying this supports the goal set by the Clean Air Act. "This investment also means higher income for the local government, employment security, and safety for our local workers," the mayor affirmed.
Undersecretary Ruth Castelo of the Department of Trade and Industry's Consumer Protection Group said the partnership between RSC and Danieli would be good for consumers. "RSC's partnership with Danieli manifests the company's commitment in improving the quality of their products to be on a par with international standards with green technology. This will ultimately redound to the benefit of the consumers for their increased protection," Castelo said.
Danieli is a global designer, manufacturer, and installer of metal production plants and equipment. It has presence in Italy, Germany, Sweden, Austria, France, the Netherlands, Spain, UK, US, Brazil, Russia, Thailand, Vietnam, China, India and Japan.
The contract signing between the two companies was witnessed by the Italian Ambassador to the Philippines Giorgio Guglielmino.