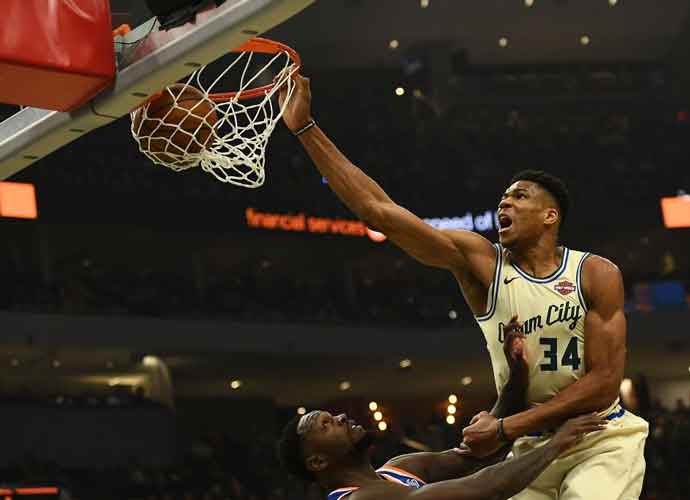 NBA All-Star Weekend kicks off Friday in Chicago and will feature the league's best as they compete in competitions including the skills challenge, the slam dunk contest, the three-point contest and the All-Star game which will takes place on Sunday, February 16, at the United Center at 8 p.m. ET and will be broadcast on TNT.
Friday will feature the All-Star celebrity game that showcases Team Stephen A. Smith vs Team Wilbon live on ESPN at 7 p.m. ET. Click the link below for the full roster of both respective teams.
At 9 p.m. ET on TNT, the Rising Stars Challenge will feature first and second year players competing for bragging rights in a game that is often more competitive than the All-Star game itself. Click below for a list of the Friday's participants.
All-Star Saturday night will begin at 8 p.m. ET on TNT featuring the skills contest where players dribble, pass and run through obstacles as they try to finish events with the fastest time possible followed by the 3-point contest and dunk contest. Here's a full list of the skills contest participants:
Bam Adebayo, Miami Heat
Patrick Beverley, Los Angeles Clippers
Spencer Dinwiddie, Brooklyn Nets
Shai Gilgeous-Alexander, Oklahoma City Thunder*
Khris Middleton, Milwaukee Bucks
Domantas Sabonis, Indiana Pacers
Pascal Siakam, Toronto Raptors
Jayson Tatum, Boston Celtics
The following participants will take part in the three-point contest:
Joe Harris, Brooklyn Nets
Trae Young, Atlanta Hawks
Davis Bertans, Washington Wizards
Duncan Robinson, Miami Heat
Devin Booker, Phoenix Suns
Buddy Hield, Sacramento Kings
Zach LaVine, Chicago Bulls
Devonte' Graham, Charlotte Hornets
The following participants will take part in the dunk contest:
Pat Connaughton, Milwaukee Bucks
Aaron Gordon, Orlando Magic
Dwight Howard, Los Angeles Lakers
Derrick Jones Jr., Miami Heat
The All-Star Game features Team LeBron James vs. Team Giannis Antetokounmpo. The starters were voted in by fans, players and media members while the reserves were voted in by coaches. James and Antetokounmpo were the captains of their respective teams for the second year in a row and made their selections on February 6 live on TNT.
Below are the lineups for each team in the order they were drafted (picks alternated back and forth between James and Antetokounmpo):
Team LeBron James*
1. Anthony Davis*, Lakers
2. Kawhi Leonard*, Clippers
3. Luka Doncic*, Mavericks
4. James Harden*, Rockets
5. Devin Booker^, Suns
6. Ben Simmons, 76ers
7. Nikola Jokic, Nuggets
8. Jayson Tatum, Celtics
9. Chris Paul, Thunder
10. Russell Westbrook, Rockets
11. Domantas Sabonis, Pacers
^Replaces Trail Blazers' Damian Lillard
Team Giannis Antetokounmpo*
1. Joel Embiid*, 76ers
2. Pascal Siakam*, Raptors
3. Kemba Walker*, Celtics
4. Trae Young*, Hawks
5. Khris Middleton, Bucks
6. Bam Adebayo, Heat
7. Rudy Gobert, Jazz
8. Jimmy Butler, Heat
9. Kyle Lowry, Raptors
10. Brandon Ingram, Pelicans
11. Donovan Mitchell, Jazz