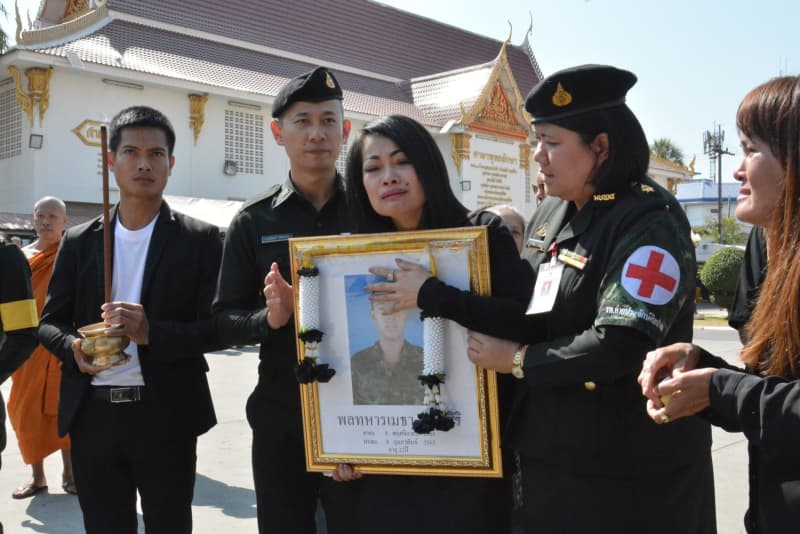 A clip showing the soldier involved in a mass shooting in Nakhon Ratchasima last weekend firing shots at an army private before taking firearms and ammunition from an armoury went viral online on Saturday.
The authenticity of the three-minute-long clip, reportedly obtained from rescue workers in the province, has not been confirmed.
The clip is a compiliation of three sets of footage. In the silent one-minute first set, a man who looked like Sgt Maj 1st Class Jakrapanth Thomma, 32, armed with a shotgun, walked to the armoury at the Surathampitham military camp. He talked to Pvt Metha Lertsiri, 23, who was guarding the place on Saturday afternoon. Pvt Metha then walked into a nearby room with open doors and the soldier fired two shots in his back. He fell to the ground.
The man then fired shots at the lock of the wooden door to the next room and opened the door.
According to army chief Gen Apirat Kongsompong, Jakrapanth took several weapons and ammunition from the armoury before going on a rampage that killed several innocent people on that day.
The second set of footage, which was 1.50 minutes long, showed the cordoned scene around Wat Pa Sattharuam monastery and some of the spots where nine people had been gunned down by Jarapanth.
According to news reports, after Jakkrapath took the guns, he got on a military truck that looked like a humvee, but the army insisted it was just a modfied truck.
He then went to the monastery. There, he loaded the weapons and started shooting passers-by randomly, killing nine in total beore driving to Terminal 21 shopping mall in downtown Nakhon Ratchasima.
The third set was taken in front of Terminal 21 at night. Gunfire was heard from the inside and rescue workers were seen carrying a woman and escorting a man to get medical help.
Volleys of gunfire rang out before dawn on Sunday, hours before police commadoes moved into the ground floor of the shopping mall, where the gunman had holed up.
Jakrapanth took 29 lives and wounded 58 others in total before police commandos shot him dead around 9am on Feb 9, ending the rampage that lasted more than 17 hours.
Before the mass shooting, Jakrapanth shot dead his commander Col Anantharot Krasae, 48, real estate developer Anong Mitchan, 65, and wounded a man identified as Witthaya Kaewprom, 40, over a real estate deal, at Anong's home in tambon Nong Jabok of Muang district, Nakhon Ratchasima in the afternoon of Feb 8.
On Feb 14, the army issued an order to promote slain Pvt Metha posthumously to the rank of sergeant for his dedication to duty.