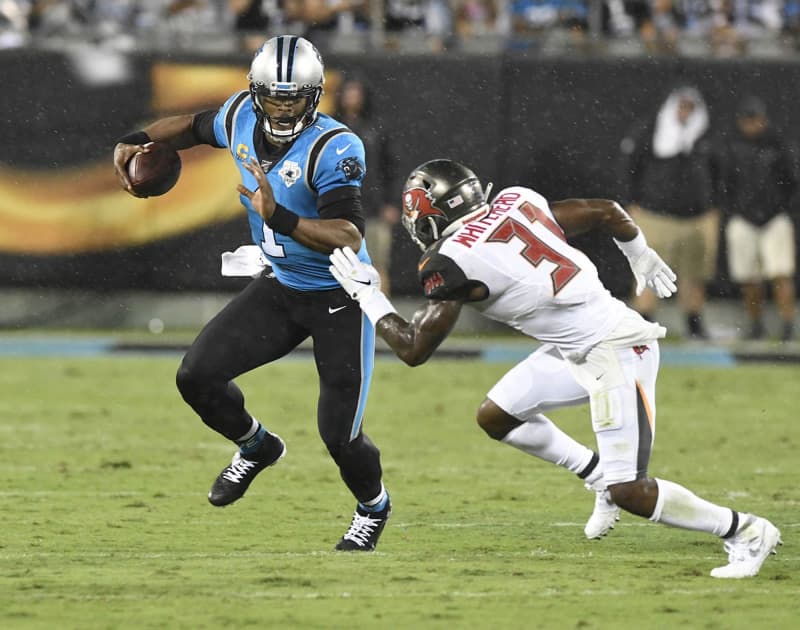 CHARLOTTE, N.C. — If it seems to you as if Cam Newton and the Carolina Panthers have been on the verge of a split for months, it's because they have.
What's happening with Cam and the Panthers now reminds me of a bit of dialogue that Ernest Hemingway used in "The Sun Also Rises," after one character asks another how he happened to go bankrupt.
"Two ways," the guy said. "Gradually and then suddenly."
That's the way this split is going to go down — gradually and then suddenly.
The idea of Newton not quarterbacking the Panthers in 2020 has been slowly seeping into everyone's heads for months. It sounded almost traitorous at first; then possible; and now is seen by many as a fait accompli.
That's especially true after the most loyal of all Cam loyalists, former Panthers head coach Ron Rivera, was fired in early December. Then new coach Matt Rhule was given the keys in January to the Panthers' on-field kingdom, with a seven-year, $62 million contract and instructions to do whatever he liked.
Since then, Rhule and Panthers owner David Tepper have had plenty of opportunity to declare Newton as their quarterback — even with an "if he's healthy" caveat — for 2020.
And each time, when asked, they have contorted themselves like pretzels to make sure not to make any sort of commitment, while also trying very hard not to say anything controversial.
Most recently, Tepper on Tuesday was asked by reporters about Newton and spouted a familiar refrain.
Said Tepper: "It's a question of how healthy his foot and he is otherwise. And that's still the number No. 1 overwhelming thing — to see how healthy he is and how we can figure out when he's healthy or not. And everything comes from that."
This makes complete sense. Newton must pass a physical if the Panthers are going to trade him (and that can't officially happen until at least March 18, the start of the new NFL fiscal year). His last game for the Panthers came Sept. 12 when he was obviously compromised and couldn't run at all. Newton was placed on injured reserve Nov. 5. He had foot surgery Dec. 9.
In other words, it's taken awhile. By contrast, linebacker Luke Kuechly's retirement was a bolt from the blue. Tight end Greg Olsen saw "the writing on the wall" late last season and was released in a mutual parting that really wasn't that mutual Jan. 30.
Newton, on the other hand, has lingered in limbo for more than 150 days since that Tampa Bay game Sept. 12. And there may be another 30 or so still to go.
Again, before that March 18 date, it's unlikely the Panthers are going to do anything at all. They could release him certainly with no compensation, as they did with Olsen, but what's the point of that? Newton's trade value is better than Olsen's; such a release right now would make no strategic sense.
But at some point soon, the "suddenly" part of this divorce will be upon us. I expect Newton will be traded.
His former left tackle, Jordan Gross, believes Newton will move on from Carolina in 2020 and that such a decision would be a win-win. Gross speculated in our recent interview: "Maybe you get a third-round pick for Cam, I don't know."
Newton told CBS Sports prior to the Super Bowl that he had a meeting with Rhule and Tepper in recent weeks and "absolutely" believes he will be in a Panthers uniform in 2020. Tepper wouldn't go nearly that far in his recent interview, however.
"I'm not a doctor," Tepper told reporters Tuesday. "I've said it a million times: 'Is he healthy?' And he's not a doctor. There's a lot of different things that can happen. But first, 'Is he healthy?' Tell me that and then we can talk."
That didn't sound at all like the Panthers are committed to Newton. Former Panthers linebacker Thomas Davis said as much on NFL Network the other day. Davis said he had spoken with Newton and that, in Davis's opinion, Newton's best course of action would be to find himself another team.
Yes, Newton will likely have a say in it, too — a new team may well want to sign him to a contract beyond the one year for $21.1 million that he has left. (The Panthers will save $19.1 million in cap space if they trade or release him). So Newton's agents will likely help conduct the search for a trade partner — that's the way it's done these days.
Newton, 30, is in the "prove-it" portion of his career. A former NFL Most Valuable Player in 2015, Newton missed all but two games in 2019 and has had three significant surgeries in less than three years (two on his shoulder, one on his foot). He needs a good year, and if I were him, I would want it to be with a great team.
That's not the Panthers — not this year. They lost their last eight games of 2019 and have gotten worse since then, at least on paper.
A split benefits everyone. Newton goes to a better team and Rhule gets to start over with a quarterback he can mold.
As Gross — who remains a big Newton fan — told me: "I think that having younger (players), and especially your quarterback being your hand-picked guy that knows no other way — I think that would be easier for a coach coming in. Not that Cam would meet him (Rhule) with resistance head-on. But when you're a 10-year veteran, there's only so much change you can do."
Exactly. And what's the point, really, if the team you change everything for isn't going to be very good anyway?
Everything seems on hold for now, until that magic March 18 date.
In the meantime, Cam Newton's long goodbye will continue. The end is coming, though: gradually, and then suddenly.
———
©2020 The Charlotte Observer (Charlotte, N.C.)