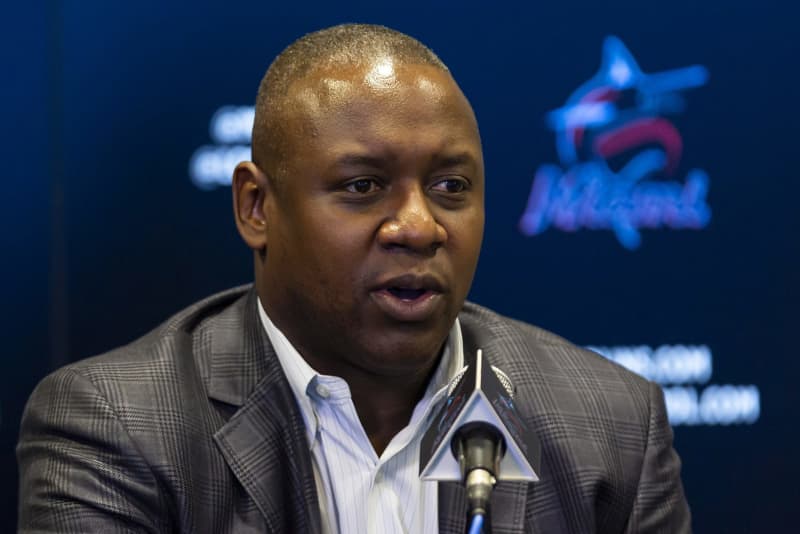 JUPITER, Fla. — Marlins president of baseball operations Michael Hill doesn't even have to say it anymore.
Seasons like 2019 — ones where the Marlins posted a National League-worst 57-105 record — have to be a thing of the past.
He reaffirmed his overarching message on Monday morning, a couple hours before the Marlins took to the back fields at the Roger Dean Chevrolet complex for the team's first full-squad practice of spring training.
Improvement is a necessity heading into Year 3 of the team's rebuild under the Bruce Sherman and Derek Jeter ownership group.
The team brought in a host of players to improve their offense that ranked among the worst in Major League Baseball. They overhauled their bullpen. Their top prospects are on the rise.
So how much improvement will be enough to satisfy Hill? He doesn't want to put a hard cap on it.
"We don't put limitations on our guys," Hill said. "The one thing I do know is that talent plays, and that's a message that we're going to continue to preach to our guys. There's a ton of talent in this camp, a ton of talent that's going to be running around the field, a ton of talent that's going to take the mound every day to compete. There's no limitations when you have that type of talent on what the future may hold."
This Marlins team most likely isn't a playoff contender. Most projections have them winning between 62 and 70 regular-season games.
But even that should be enough of a step to show the Marlins are on the rebound after shipping most of the team's recognizable faces away in order to build up their minor-league system.
Two years later, it's time for the big-league club to show its worth.
They anticipate strides from their core group of Brian Anderson, Jorge Alfaro, Miguel Rojas, Sandy Alcantara and Caleb Smith.
Almost all of the prospects they acquired from their trades over the past two years are close to being MLB ready or are already in the big leagues. That doesn't include the additions of Corey Dickerson, Jonathan Villar, Jesus Aguilar and Brandon Kintzler, among others, this offseason.
Among players on the Marlins' 40-man roster, 29 have been added since the new ownership group took over the franchise.
"You have talented young players who are continuing to get better," Hill said, "and that's how we get better."
They have the next five weeks to show just how much better they can get.
"The bar has always been there," Hill said. "Our goal from Day 1 the first year of the ownership has always been to build something sustainable. That bar has never changed. … We're never going to say we don't expect to win every time we step onto the field. That hasn't changed."
———
©2020 Miami Herald