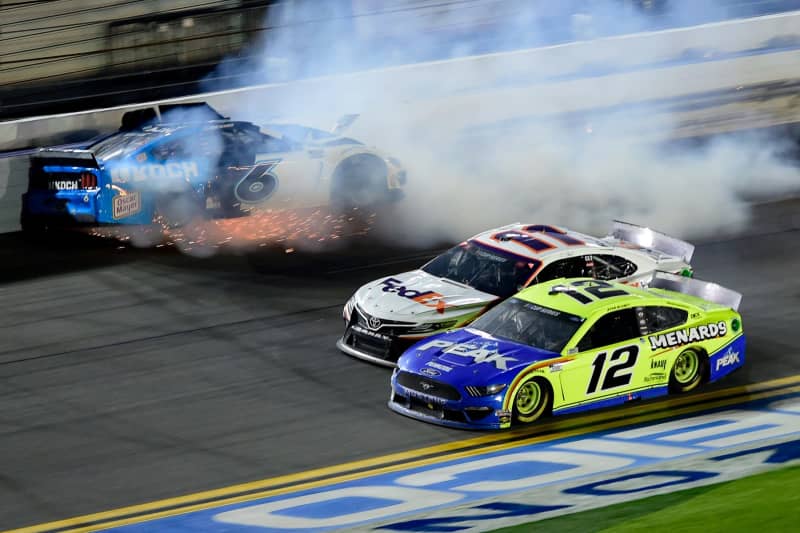 DAYTONA BEACH, Fla. — As Denny Hamlin made his way to victory lane Monday night, Ryan Newman made his way to the hospital. In the final minutes of one of NASCAR's most iconic races, the Daytona 500, Hamlin narrowly missed Newman's spinning car, which was tapped by Ryan Blaney.
Blaney crossed the finish line in second place.
"I don't know," Blaney said. "We just got bumpers hooked up wrong and turned him. I hope he's all right."
As the drivers rounded Turn 4 and made their way down the final stretch, Newman led Blaney and Hamlin, respectively. Blaney crossed to the inside of the track as Hamlin stayed wide. Blaney's car then tapped the back of Newman's No. 6 Ford and his car spun to the outside wall.
Sports Pass: Get around our paywall for only $30/year. Unlimited access to NASCAR and all of The Charlotte Observer's national award-winning sports coverage.
It then flipped once on the track and was hit a second time by Corey LaJoie, causing Newman's car to go airborne. The car then skidded upside down before coming to a stop on the infield and catching on fire. Newman was immediately transported to Halifax Hospital in Daytona Beach.
His status is not immediately known.
"We pushed Newman there to the lead," Blaney said. "And then we got a push from the 11 (Hamlin), and I made a move off 4 on Newman and he blocked it and I kind of went low and he blocked that."
Team Penske's Blaney said it was then that he committed to pushing Roush Fenway Racing's Newman to the finish line for a Ford victory, but the cars contacted wrong, causing the wreck.
Newman's reeling car passed in front of Hamlin, who drove low to miss it. Hamlin then edged past Blaney for his photo-finish victory.
After other drivers emerged from the track's on-site care center, they immediately asked reporters for updates on Newman's condition, to which there was no answer. All drivers are required to visit the care center following a crash, but Newman's accident was so violent, he was instead taken directly to the hospital.
"That's not good," LaJoie said while watching a replay of the crash. "Is that the right side door or left side door? … That's not good."
Hamlin and winning team owner Joe Gibbs paraded to victory lane to celebrate the team's second consecutive Daytona 500 victory, unaware of the severity of Newman's wreck.
Gibbs said they didn't know until after post-race interviews that Newman's health was in question.
"It's a weird balance of excitement and having this for yourself," said Hamlin, who is now a three-time Daytona 500 champion. "But obviously someone's health and their family's is bigger than any win, any sport."
"So we're just hoping for the best."
———
©2020 The Charlotte Observer (Charlotte, N.C.)