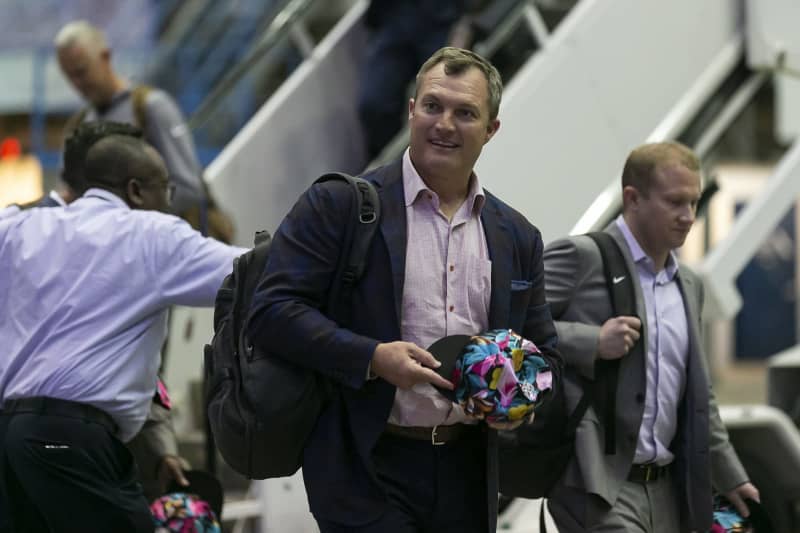 SANTA CLARA, Calif. — The 49ers key decision-makers are less than a week from their annual trip to the NFL scouting combine in Indianapolis and find themselves in a drastically different position than 12 months ago.
Last February, head coach Kyle Shanahan and general manager John Lynch were coming off a 4-12 season after losing quarterback Jimmy Garoppolo early in the year to an ACL tear. They went to Indy with the draft's No. 2 overall pick, with a strong likelihood they would land a prominent defensive prospect while the Arizona Cardinals were poised to take quarterback Kyler Murray with the top selection for first-year head coach Kliff Kingsbury.
A lot has happened since then.
The 49ers had a remarkable turnaround season while their class of rookies provided key contributions to a Super Bowl run. They went 13-3 and earned the top seed in the conference before losing the final game to the Kansas City Chiefs. First-round pick Nick Bosa quickly became one of the best defensive ends in football while receiver Deebo Samuel evolved as one of the league's promising young weapons for Shanahan. Both were bright spots throughout the playoffs and in the Super Bowl.
The mandate this year: add another rookie class that helps get over the top and win the franchise's sixth Lombardi Trophy. The 49ers got to know Bosa at last year's combine and had another long visit in Columbus, Ohio, surrounding Ohio State's pro day. Samuel worked for Shanahan and San Francisco's coaching staff on the South Team at the Senior Bowl. Fifth-round choice Dre Greenlaw made arguably the biggest tackle of the regular season and filled in admirably for high-priced free agent linebacker K'won Alexander following his pectoral injury.
The vault up the NFL food chain isn't the only difference facing the 49ers this year as they begin evaluating college prospects. Their draft capital is lacking because of trades for key veterans Dee Ford and Emmanuel Sanders. San Francisco doesn't have any selections in rounds 2, 3 and 4 — rounds in which they added 10 players (and four projected starters) in the last three drafts.
San Francisco currently has the 31st pick in Round 1, two picks in Round 5, one in Round 6 and two in Round 7.
Simply put, it'll be difficult for Shanahan and Lynch to find many key contributors as collection of draft assets currently stands. But that could change drastically by the time the draft comes around April 23. A lot of work will be done in the meantime, so let's take a look at the options the 49ers will consider before Lynch and Shanahan answers questions from the combine next Tuesday.
———
The 49ers probably won't be able to keep all three of their prominent free agents, Arik Armstead, Emmanuel Sanders and Jimmie Ward, and ink foundational players George Kittle and DeForest Buckner to lucrative long-term contract extensions. Using a first-round pick would be a logical way to replace one of those players.
Sanders turns 33 this spring and might command more than the 49ers would be willing to pay a player at that stage of his career. Which means tapping into the talented and deep batch of receivers in this year's class might be prudent. It's widely considered one of the best in years.
Which receivers might fit and be available? The top three — Jerry Jeudy (Alabama), CeeDee Lamb (Oklahoma) or Henry Ruggs (Alabama) — will likely be off the board by the time the 49ers pick.
But a starter-level prospect should be available at that point regardless. Colorado's Laviska Shenault (6-2, 224) is considered similar to Samuel as a multi-dimensional weapon who excels with the ball in his hands. There's also Tee Higgins (6-3, 205) who tied Sammy Watkins and DeAndre Hopkins for the most receiving touchdowns in Clemson history.
What if Sanders returns? Then the 49ers might look to add depth to the defensive line (if Armstead ends up elsewhere in March) or safety (if Ward gets a lucrative offer to join another team).
Yetur Gross-Matos (Penn State) is a similarly versatile pass rusher to Armstead who could line up outside and inside in a 4-3 defense. LSU's Grant Delpit has been a popular prospect for San Francisco in mock drafts that could potentially play either safety spot as Jaquiski Tartt is signed for one more season. San Francisco could also find an offensive lineman to eventually replace left tackle Joe Staley and develop at guard in the meantime.
After all, the offensive line struggled against elite interior pass rushers like Atlanta's Grady Jarrett, Rams star Aaron Donald and Chiefs standout Chris Jones, who was a serious problem for the 49ers in the Super Bowl.
———
The team's barren war chest of picks make trading back another logical direction.
Shanahan and Lynch might not be able to draft in the first round then, or get a fifth-year option on a rookie contract for a possible long-term starter, but the team could find multiple contributors on affordable deals. That's paramount given the team, as things currently stand, doesn't have the cap space to extend Buckner and Kittle and re-sign their three starters headed toward free agency.
The 49ers currently have about $19 million in space, according to Spotrac, which would barely be enough to cover Armstead if he got the franchise tag. And they only have six picks in this year's draft after having 10, nine and eight picks in the last three drafts.
As was noted earlier this week, the Seahawks last year made a series of trades to turn the No. 21 selection into six picks, including two in rounds 2 and 4, and one in rounds 5 and 6.
Six might be a rich number for the 49ers. They might not have enough vacancies on their talented roster to keep that many incoming prospects. Though there are other free agents along the margins of the roster that might need replacing. Those players, such as defensive end Ronald Blair III, defensive tackle Sheldon Day and center Ben Garland, all saw significant playing time throughout the season.
Ultimately, the 49ers are dealing from a position of strength. Not because they have gluts of cap space and draft capital, but because they have a talented roster that led during the first three quarters of the Super Bowl. The key is supplementing the roster by adding players that could contribute right away while also balancing the right infusion of talent to ensure winning is sustainable over the long haul.
———
©2020 The Sacramento Bee (Sacramento, Calif.)