Social media posts claiming that Chloroquine Phosphate, an anti-malarial drug, has a curative effect on the novel coronavirus disease are unproven and lack scientific evidence.
By Abeen Shayiq
The WHO has labelled the spread of fake news on novel coronavirus an 'infodemic' as the false and unproven information on the internet is spreading faster than the virus itself.
The one such false claim that has already swept the web is a tweet which reads: the drug Chloroquine Phosphate is the number one cure for COVID-19. This "magic cure" for coronavirus has also been widely shared on Whatsapp in India.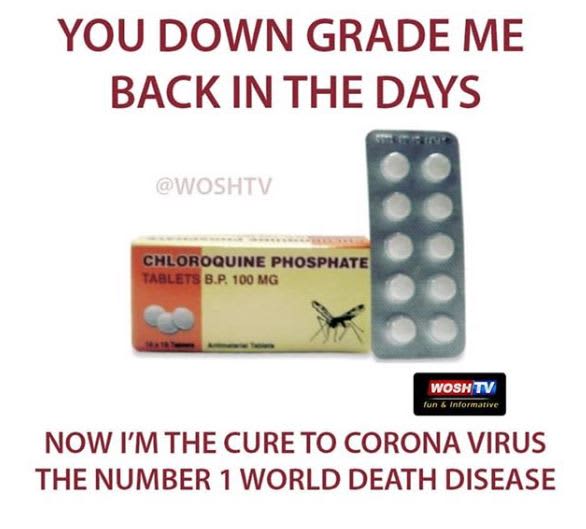 While refuting the inaccurate misinformation on the treatment of COVID-19, Psychiatrist at NIMHANS, Bengaluru Dr Debanjan Banerjee said, "The claim is not scientifically proven yet, as the mentioned drug, Chloroquine Phosphate is usually prescribed for the treatment of malaria."
He further added that even though the drug has anti-inflammatory properties, it has no documented antiviral property. "The drug is the second to work against malaria after Quinine and has a totally different mechanism of action," he said.
While fact-checking, we came across an article in Nature, the world's leading multidisciplinary science journal. Published on February 4, 2020, the article titled: 'Remdesivir and chloroquine effectively inhibit the recently emerged novel coronavirus (2019-nCOV) in vitro', highlights how chloroquine is highly effective in the control of 2019-nCOV infections but 'in vitro', i.e, under controlled conditions only.
The article also suggests that since these compounds have proved to be effective against various ailments, they should be assessed in human patients suffering from the novel coronavirus disease.
The viral tweet, thus, is assumed to be a result of misinterpretation of the above article.
According to Reuters chloroquine phosphate is being tested in 10 hospitals in China in more than 100 patients. Preliminary results suggest it has some benefit in patients with pneumonia, Chinese officials said.
Chinese scientists also are treating some patients with blood from coronavirus survivors, an older technique that has been used to fight rabies, diphtheria and other infections, according to Reuters report. So far, 11 patients with severe pneumonia have shown significant improvement with the treatment, with no severe side effects, officials said.
Furthermore, the WHO has maintained that there is no proven cure for the deadly disease that has already taken 2,236 lives, globally. All such claims on COVID-19 magic treatments come with no medical backup and no proof.