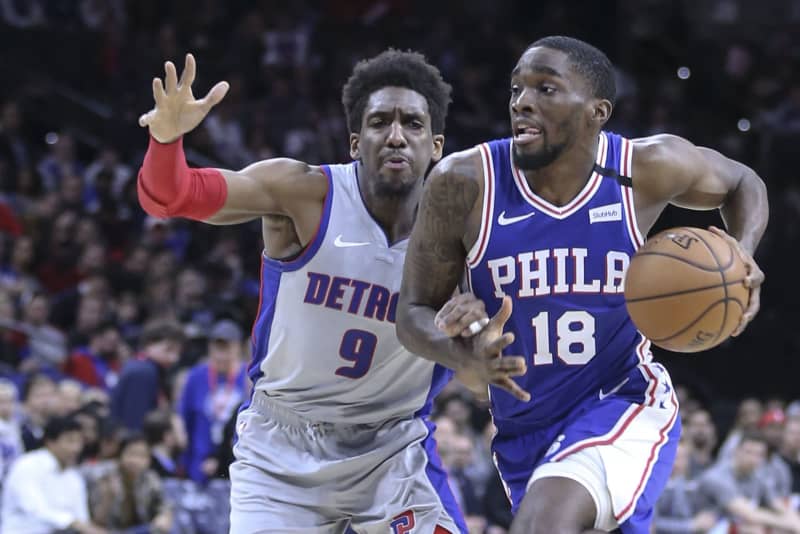 The 76ers returned home where they are now 29-2 after Wednesday's 124-106 win over the Detroit Pistons. Will this be the last home game the Sixers play in front of their fans due to the coronavirus? So many questions and more clarity could come as early as Thursday.
For now, here is a look at the game.
———
Playing down to the competition
The Sixers led just 89-80 with under three minutes left in the third quarter, against a Pistons team that is ranked 30th and last in the most recent Inquirer NBA power rankings. That is on merit. The Pistons are a banged-up team. Imagine them with Blake Griffin, John Henson, Luke Kennard and Derrick Rose, who were among the injured. The Sixers played as if they knew their opponent was severely overmatched. Give Detroit credit for hustling.
———
The strong return of Joel Embiid
After missing the last five games with a sprained left shoulder, Joel Embiid returned. His numbers were strong, but one can tell he still has a way to go to get his conditioning back. In addition, Embiid hung around a lot on the perimeter, although he only attempted (and made) one three-pointer through three periods. Through three quarters he had 21 points and nine rebounds and was still dominant in the fourth quarter. Even though it came against the Pistons, its shows his talent because he was obviously winded.
———
Good numbers for Horford, but deficiency shown
Al Horford had good numbers for the third straight game, but one play in the third quarter showed one of his shortcomings, the inability to defend quicker players. On one play, former Sixer Christian Wood gave a quick pump fake, and then blew by Horford for a driving dunk. Horford has trouble defending quicker players who can shoot the three or take it to the hoop.
———
Speaking of Wood
At 24-years-old the 6-foot-10 Wood has bounced around the NBA. The Pistons are his fifth team, but this year he has received his first extended chance and made the most of it. He has shown a decent touch from beyond the arc, good quickness. This was his 62nd game, three times as many as he had played in any season. Some players need a chance and he has taken advantage of it.
———
Shake Milton coming back to the pack
In this game Sixers point guard Shake Milton didn't play like, well, Shake Milton, at least the current version. Milton had averaged 18.7 points in the previous seven games he started in place of injured Ben Simmons. On this game he struggled early, but did come on in the fourth quarter. Still, he won't be dazzling every night, but as coach Brett Brown said on Wednesday, Milton has earned a spot in the rotation even upon the return of Simmons.
———
Richardson shaking off rust
For somebody who missed the previous three games due to a nose contusion and concussion, Josh Richardson played a significant amount. There is still rust that he will have to shake off, but the fact that he was able to play as much as he did, bodes well for his conditioning.
———
©2020 The Philadelphia Inquirer