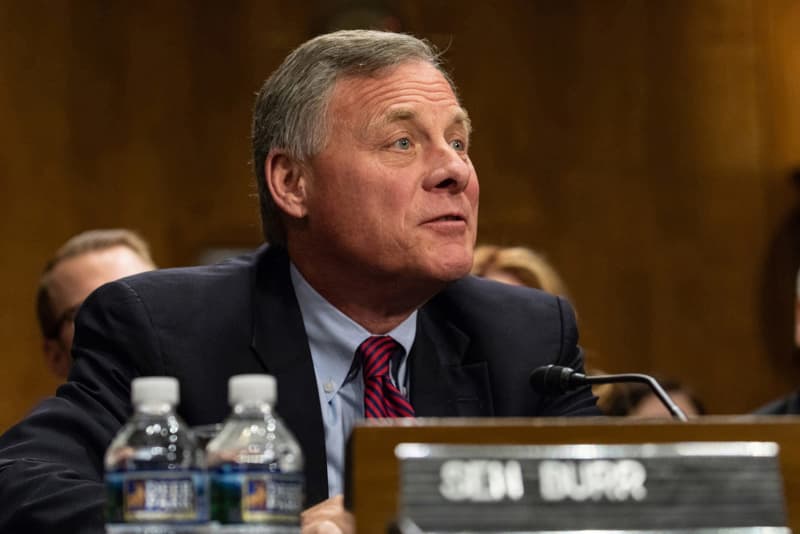 CHARLOTTE, N.C. — Fallout continued this week over revelations that U.S. Sen. Richard Burr dumped up to $1.7 million in stock after private briefings about the coronavirus, including a personal lawsuit against him.
Politico reported the shareholder suit against Burr in U.S. District Court for the District of Columbia even as the U.S. Securities and Exchange Commission this week issued a stern warning against insider trading.
Last week ProPublica and the Center for Responsive Politics reported that Burr sold the stocks in mid-February just before the market collapsed.
As chairman of the Senate Intelligence Committee, Burr was privy to what The Washington Post described as a surge of ominous intelligence warnings about the virus in January and early February. A week before his stock sales, Burr co-authored a Fox News column that sought to reassure Americans about the virus.
Burr, who said in a statement that he "relied solely on public news reports to guide my decision" about the stock sales, has asked the Senate Ethics Committee to investigate. The committee could not be reached for comment Tuesday.
According to Politico, Burr was sued in federal court Monday by Alan Jacobson, a shareholder in Wyndham Hotels and Resorts. Jacobson claims that Burr used private information in deciding to sell the stocks. The Center for Responsive Politics reported that holdings sold by Burr and his wife, Brooke, included up to $150,000 of Wyndham stock.
The stock closed at $59.10 on Feb. 13, the day of the sale. Early Tuesday it was trading at less than $28.
"Senator Burr owed a duty to Congress, the United States government, and citizens of the United States, including Plaintiff, not to use material nonpublic information that he learned by virtue of his duties as a United States Senator in connection with the sale or purchase of any security," Jacobson's lawsuit said.
A Burr spokeswoman did not respond to emails Tuesday.
As the lawsuit was filed Monday, the SEC issued a warning about insider trading, especially during a pandemic.
"Given these unique circumstances, a greater number of people may have access to material nonpublic information than in less challenging times," the agency's enforcement chiefs said in a statement. "Those with such access … should be mindful of their obligations to keep this information confidential and to comply with the prohibitions on illegal securities trading.
"Trading in a company's securities on the basis of inside information may violate the anti-fraud provisions of the federal securities laws."
Asked Tuesday if the SEC had opened an investigation into Burr's dealings, a spokesperson declined to comment.
Lawmakers are prohibited from using private information to their benefit. The 2012 STOCK Act prohibits profiting off "any nonpublic information derived from their positions as Members or congressional employees," according to a Library of Congress summary. Burr was one of three senators to vote against the bill.
Last week NPR broadcast a recording of Burr speaking to the North Carolina State Society on Feb. 27 and sounding the alarm about the virus, even saying it was "probably more akin to the 1918 pandemic" that killed 675,000 Americans. In a tweet, Burr called the story "a tabloid-style hit piece."
A new survey by the left-leaning Public Policy Polling found 50% of North Carolina voters say Burr should resign, including 31% of Republicans. Critics from liberal U.S. Rep. Alexandria Ocasio-Cortez to conservative Fox News host Tucker Carlson have also called for him to resign.
U.S. Sen. Thom Tillis, a Republican and North Carolina's junior senator, said, "given the circumstances, Senator Burr owes North Carolinians an explanation." Tillis has reported no stock transactions in the last year.
"His self-referral to the Ethics Committee for their review is appropriate, there needs to be a professional and bipartisan inquiry into this matter, which the Ethics Committee can provide," Tillis tweeted Friday.
Asked about the response to Burr's stock sales, Donald Bryson, president of the conservative Civitas Institute, told the Observer that he's heard "a lot of agreement with what Sen. Tillis said."
"Most folks are just focused on what's in front of them, which is the coronavirus," he added. "I do think there needs to be an ethics investigation."
———
©2020 The Charlotte Observer (Charlotte, N.C.)