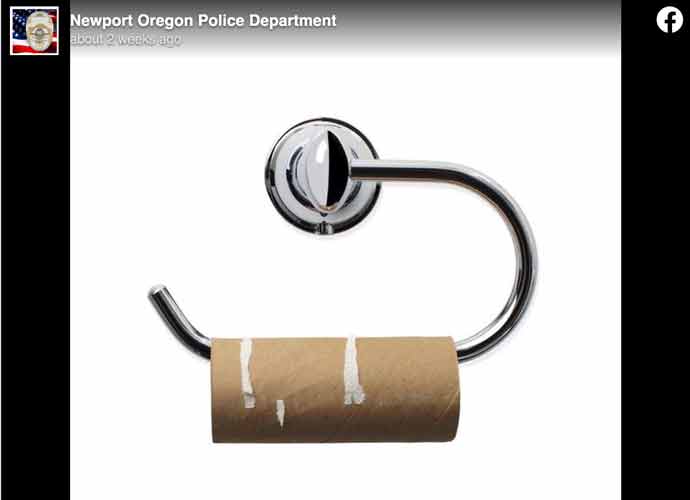 The Oregon State Police are urging residents to stop calling 911 for toilet paper. In the midst of the coronavirus (COVID-19) pandemic, Oregonians have been contacting the local authorities to stock more toilet tissue in community shops or provide them with additional supplies.
The Newport Police Department issued an announcement on Facebook asking residents to stop telephoning them over the shortage. "It's hard to believe that we even have to post this," the police wrote. "Do not call 9-1-1 just because you ran out of toilet paper. You will survive without our assistance."
CORONAVIRUS FAQ: WIKI OF MOST FREQUENTLY ASKED QUESTIONS 
Toilet paper is out-of-stock many stores in Oregon and Amazon. The dearth is attributed to shoppers hoarding the tissue paper in fears of shops closing. It has been exacerbated by other Oregon residents stockpiling the bathroom commodity.
Medical surgeon face masks, hand sanitizer and cold-and-flu related remedies have also disappeared off shelves and are out-of-stock online.
Some international supermarkets, like those in the U.K. and Australia, have instituted a ration on the product and other corona-age commodities.
The Newport police attempted to use satirized historical anecdotes to calm panicked customers – "Seamen used old rope and anchor lines soaked in salt water. Ancient Romans used a sea sponge on a stick, also soaked in salt water. We are a coastal town. We have an abundance of salt water available. Sea shells were also used," they wrote.
The police also suggested various alternatives to the bathroom staple, such as grocery receipts and cotton rags.
"Be resourceful," police wrote. "Be patient. There is a TP shortage. This too shall pass. Just don't call 9-1-1. We cannot bring you toilet paper."
It's hard to believe that we even have to post this. Do not call 9-1-1 just because you ran out of toilet paper. You…
Posted by Newport Oregon Police Department on Saturday, March 14, 2020