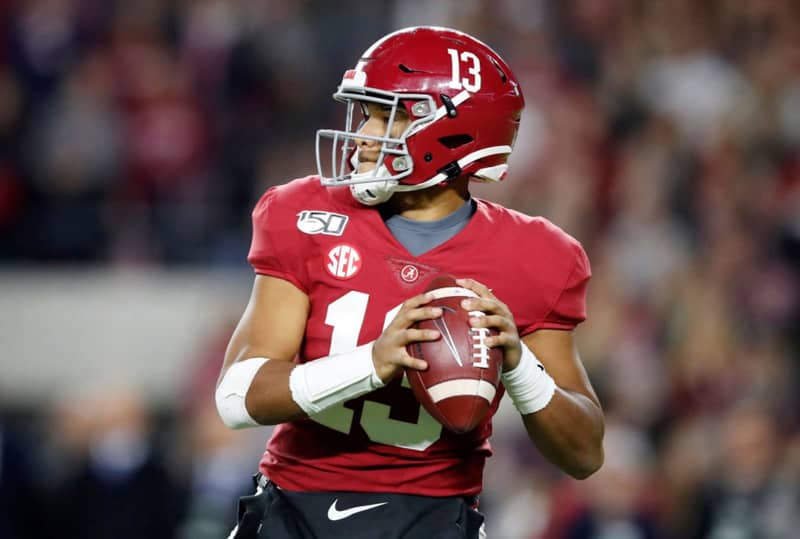 In talking with a Miami Dolphins official who isn't privy to the team's full thinking — and only owner Steve Ross, general manager Chris Grier, coach Brian Flores and team president and CEO Tom Garfinkel are in that inner circle — a common theme surfaced about the draft decision of Alabama quarterback Tua Tagovailoa.
"It's the Drew Brees situation again," he said.
That's repeated around the team a lot these days.
"I hope we get it right this time," he said.
That's repeated a lot, too.
No decision set the Dolphins back more than passing on Drew Brees as a free agent in 2006. No miss has caused more heartache — as Brees continued on to a Hall of Fame career with the New Orleans Saints.
But here's the thing: If this Dolphins regime is presented with the same information about Tua's health as coach Nick Saban was with Brees back in 2006, they'll come to the same conclusion.
They won't draft Tua. They'll justifiably pass on him out of rational thought. They'll have backed up various medical reports with in-depth medical talks and come to the football decision that it's just too risky.
We love to second-guess in sports. Mock the play-call as dumb if it fails. Question the strategy that doesn't work. In this case, that means pointing the finger more than a decade later at the Dolphins' medical staff for telling Saban how Brees' shoulder would never heal again.
Let's unpack the facts. It wasn't one team doctor. It was six of the top shoulder surgeons in the country. The Dolphins sent Brees' medical information to them and asked their opinion. None of them said Brees' shoulder was done. But, as team owner H. Wayne Huizenga and surgeon Pete Indelicato told me in the aftermath, each of those six doctors agreed that Brees had a 20% chance of fully healing.
"So he had an 80% chance of not healing," Huizenga said.
So Saban didn't just talk to one doctor. He talked to the nation's top doctors. He collected information, weighed the odds and considered the options.
Saban loved Brees, too. He called Brees at "a second after midnight" on the start of free agency, as he once said.
"It might have even been before that," said Brees at the Super Bowl in 2009, when he practiced at the Dolphins facility in Davie.
Here's the question: Would you invest a big-money contract, your job and the franchise's future on a 20% chance of success? Especially when by the same involved medical process the other option, Daunte Culpepper, had a bum knee given an 80% chance of healing?
"You do risk assessment in this business," Indelicato said back then. "But if you say something has an 80% chance of working out one way, there's always that 20% chance it goes the other way. You can't base your decision on that. But it's out there."
It's out there again with Tagovailoa. Maybe not the same odds. Maybe larger. Maybe smaller. I don't know. That's important to say here. I don't know what the medical report says on Tagovailoa.
Team Tua is pounding the street in radio interviews and released videos to suggest he's healthier than ever. Football people aren't buying that. Some don't think he's even all that as a prospect — "I don't see the Steve Young comparison," a former GM told me.
That's football, though. Health? That's where this starts. It's why many think Justin Herbert or Jordan Love are better options than Tua. It's why a trade up for Joe Burrow would make sense if the Dolphins could pull it off.
It's also why there are such differing opinions on where Tua should be drafted. Former Dolphins general manager Mike Tannenbaum said on ESPN it would be, 'irresponsible' to take Tua in the Top 10. Former NFL quarterback Chris Simms rates him as the fourth-best quarterback prospect in the draft. Former NFL quarterback Gary Danielson compared Tua's vision to Dan Marino's.
There's a lot of involved work in this decision. There's a measure of luck it works out, too. No one talks of luck. Saban made the call anyone would on Brees, when presented with a 20-percent success rate.
It was the right decision that went all wrong. And now here we are, all these years later, replaying the odds in some form and hoping not to be played by them.
———
©2020 Sun Sentinel (Fort Lauderdale, Fla.)