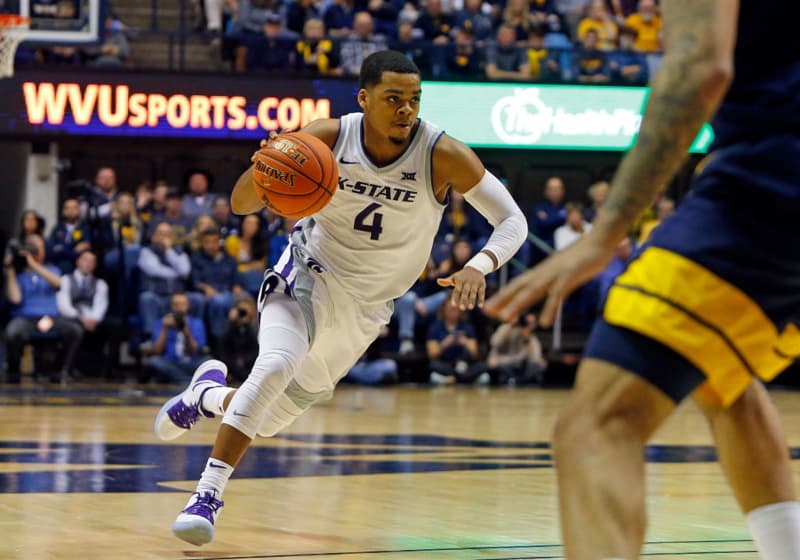 MANHATTAN, Kan. — Kansas State basketball coach Bruce Weber will be staring at a large group of new faces whenever the Wildcats are allowed to welcome players back to campus.
David Sloan announced Monday that he will transfer away from K-State following one season with the team, which means the Wildcats' roster will feature eight new scholarship players next season.
"This past year has been filled with many blessings as I am grateful to have spent it with Wildcat Nation," Sloan wrote on social media. "However, I would like to announce I will be completing my degree and final year of eligibility elsewhere. I would like to personally thank Coach Weber for the opportunity to represent K-State and the entire Wildcat community."
Sloan's departure came as no surprise after the Wildcats landed junior-college point guard Rudi Williams on Sunday.
K-State added Sloan from John A. Logan College in Carterville, Illinois last spring after he helped lead the junior college team to 53 wins over two seasons while leading the nation in assists.
He was expected to come in and help lead K-State's offense as a distributor, but a summer wrist injury slowed his progress and he went through an up-and-down season with the Wildcats.
Sloan averaged 5.3 points and 2.3 assists as a junior. He mostly came off the bench but started nine games as the season went on. Had he remained in Manhattan, he would have been one of three seniors on the roster. Instead, only Mike McGuirl and Levi Stockard will return as seniors.
Without Sloan, K-State now has one scholarship to use during this recruiting cycle. The Wildcats are hoping to land four-star guard Donovan Williams, who listed them among his three finalists on Monday.
K-State currently has seven new players lined up for next season. They are Nijel Pack, Luke Kasubke, Davion Bradford, Selton Miguel, Seryee Lewis, Rudi Williams and UTEP transfer Kaosi Ezeagu.
The good news is many of those recruits are highly regarded. Rivals ranks K-State's incoming class as the No. 14 group in the nation. That ranking will improve if the Wildcats land Donovan Williams.
The Wildcats are expected to return five players. They are Mike McGuirl, DaJuan Gordon, Antonio Gordon, Montavious Murphy and Levi Stockard.
———
©2020 The Kansas City Star (Kansas City, Mo.)