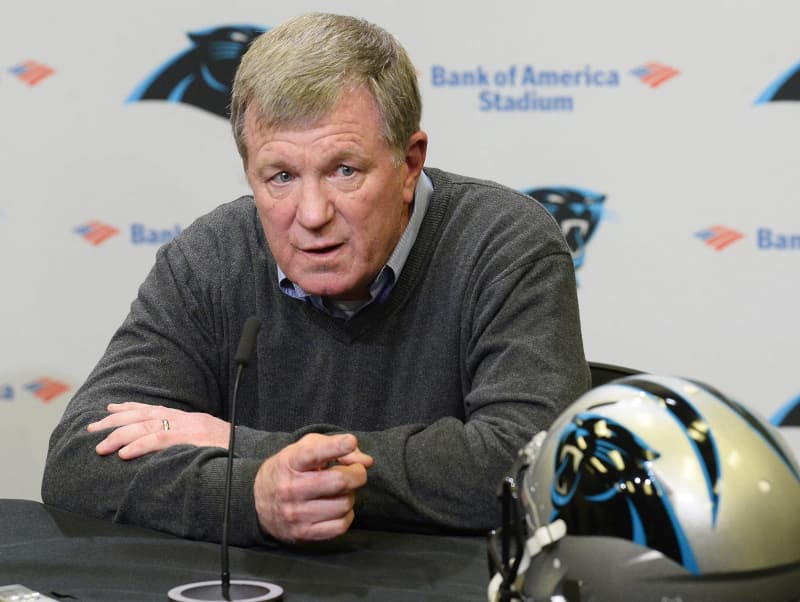 Scouring the Marty Hurney press conference for usable nuggets of information Monday feels a bit like a waste of time.
The Carolina Panthers general manager spoke about 2,000 words over 20 minutes, and about 1,900 of those were of the pleasantly vague variety. There was a lot of "We're preparing for every scenario" and "Those were private conversations" and "We have a plan" — without saying much at all about what the plan is.
Still, there's plenty of time to scour. The coronavirus has postponed every notable sports event for months.
So here are five things Hurney said — or didn't say — that I found interesting and that at least told Panthers fans something about what's going on with a team that will enter the 2020 season (if there is one) with an eight-game losing streak:
———
DEFENSE COMES NEXT
Hurney on the roster: "We've put a lot of currency into the offensive side. We've obviously added depth at receiver, added depth and competition on the offensive line and we've changed quarterbacks … So if you were to say 'What area do you look at the most' it would be defense rather than offense at this point."
That's pretty clear-cut, and I wouldn't be at all surprised if every pick the Panthers make in the first three rounds of this NFL draft is a defensive guy. However, if one of those top three quarterbacks falls to the Panthers at No. 7, I'd still take him.
———
THE CHARGERS PROPOSED THE TRAI TURNER-RUSSELL OKUNG TRADE
"I actually got an email one night (from the Los Angeles Chargers), actually after a report came out, and they proposed a trade — Russell for Trai," Hurney said.
This isn't the way I imagine a big NFL trade going down. A random email? Really?
Hurney wouldn't say what report he was referring to. The Panthers have been panned by some for making this deal — Okung, 31, is five years older than Turner but plays a more important position. I'm not quite as high on Turner as a player as many are, but Okung has been injury-prone.
To me, the deal mostly shows that the Panthers were desperate to find a reliable left tackle and don't think Greg Little (who only played in four games as a rookie in 2019 mostly due to concussion issues) is the answer right now.
———
CAM NEWTON WILL NOT BE BAD-MOUTHED
Newton had his feelings hurt when the Panthers first said his agents could seek a trade last month and then released him. About that potential trade that never materialized, Newton wrote on Instagram in a post directed at his former employer: "Please do not try and play me or manipulate the narrative and act like I wanted this; you forced me into this!!" Later, he said on Instagram in an apparent Panthers reference: "They gave up on me."
Hurney wisely avoided anything confrontational when addressing Newton's release for the first time Monday. He just kept calling it an "extremely difficult decision." He also shied away from why the Panthers released Newton — I thought he owed the fans more on that front.
"I appreciate everything he's given and it was extremely difficult," Hurney said of Newton's release, "but that's where we ended up." (Newton doesn't yet have another job).
———
BRADY WAS BIG ON BRIDGEWATER
Carolina's new quarterback is Teddy Bridgewater. During the conference call, I asked Hurney why the Panthers had settled on Bridgewater as Newton's replacement.
"He's a very talented quarterback," Hurney said of Bridgewater. "I've always liked him. He's got great feet in the pocket, he's got good vision, he's got a quick release, he's got good accuracy. … And he's got familiarity with Joe Brady's system since Joe was down there in New Orleans. So he's certainly a guy who has had to overcome adversity himself, and has won consistently everywhere he's been."
I believe the most important part of all that is the Brady connection. Brady worked with Bridgewater a lot, they are close to the same age and the Panthers' new offensive coordinator wanted him.
———
THE WORD 'REBUILDING' WILL BE AVOIDED
That the Panthers are rebuilding right now is as obvious as saying that sports networks are scrambling for content. This is a team that has hired a new coach in Matt Rhule and that has lost Cam Newton, Luke Kuechly and Greg Olsen in the past three months — three of the team's 10 best players ever — as well as Turner and cornerback James Bradberry. Still, no one likes to use the word "rebuilding" — I'm really not sure why.
"We certainly had a lot of changes," Hurney said when asked if the team was in rebuilding mode. "But every year, you make the decisions that you feel like will help you be competitive and be a better team. So obviously we came in with a lot of holes to fill. I think we filled some in free agency. We've had a plan on how to build this and I think we're going to continue through the draft. You look at it as a 'one good decision at a time' mentality."
Um, OK. But let's not pretend. This is a tear-down and a rebuild. It might happen fast — if the Panthers are lucky — but that's what it is.
———
©2020 The Charlotte Observer (Charlotte, N.C.)