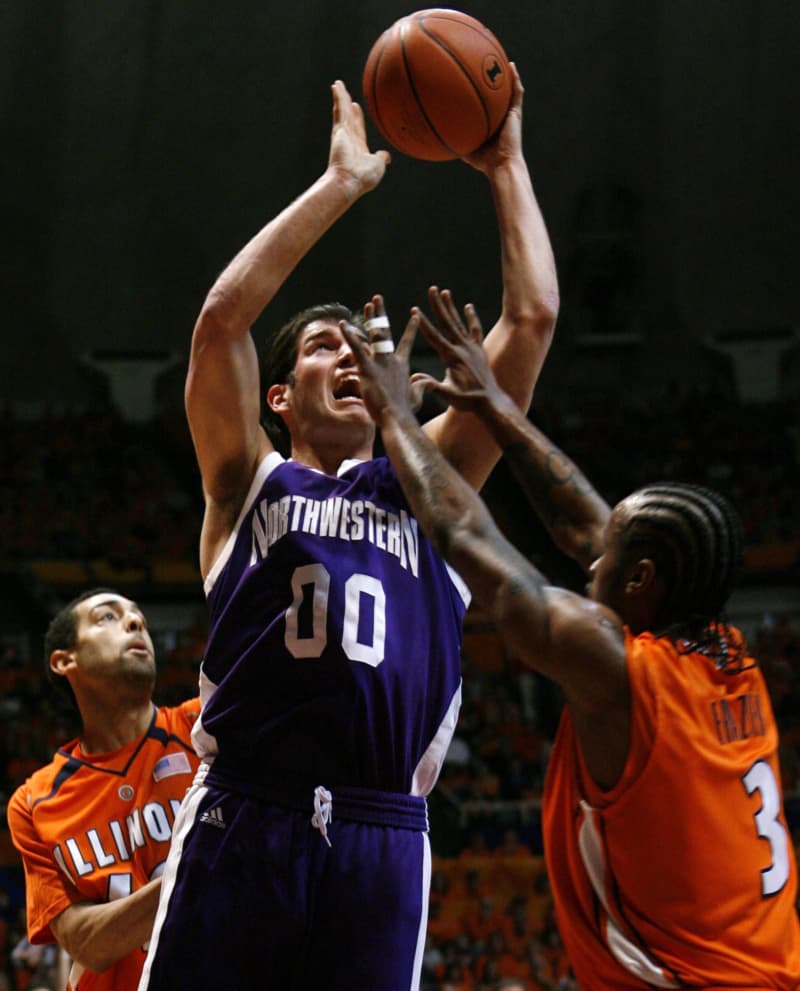 Tim Doyle takes a break from cooking breakfast as he notices his 5-year-old son walking toward him. Joe, pretending it's Halloween, is wearing a police officer's uniform.
"Are you a good cop, Joe?" Doyle asks. "Or do you take money from the mob?"
Doyle laughs loudly enough to rattle the plates. He grins, devilishly.
The sausage and eggs can wait. Laughter is the nourishment he craves, especially from others.
Doyle is 6-foot-5 with an even bigger personality.
His wife, Susie, works in radiation oncology at a cancer center in west suburban Warrenville.
"Every time I see a patient," she says, "I put on gloves and a mask. I try not to touch anything I don't have to."
"Including me!" Tim cracks.
This is Doyle. Anything to get a rise or cackle from those listening. It's in his DNA.
But that same trait is what derailed a promising career in sports broadcasting. Doyle was Charles Barkley without the cred. He shot from the hip without considering the carnage.
He said enough outrageous stuff for the Big Ten Network not to renew his contract. A scuffle with former Bulls guard Kendall Gill left him without a role on Comcast SportsNet, now NBC Sports Chicago. Doyle also lost a full-time job with Stadium, the multiplatform national sports network based at the United Center, but that was due to a change in its programming strategy.
That came in 2018. And as a result the guy who lives to make people laugh cried himself to sleep and hid foreclosure notices from Susie.
"Dark times," he says.
What saved him was sports betting.
But it's not what you think.
———
A 2006 Tribune story described Doyle as "a native New Yorker whose hairstyle makes him look as if he just stepped out of the cast of 'Grease.' "
Said Doyle, then a 24-year-old senior at Northwestern: "Back on the East Coast, everyone gels their hair a little. I'm a product of my environment, but it's a product-free environment out here."
Doyle transferred to Northwestern after a season glued to the bench at St. John's. He started 67 games for Bill Carmody and set the program's single-season assists record (157), which Bryant McIntosh later shattered.
Before a game against Ohio State, Doyle cracked of teammate Vince Scott: "Greg Oden's going to be a pro, and Vince is going to be an investment banker."
The reporter said thanks and pointed to the court. Practice was starting. Doyle said he'd rather stay and keep talking.
He became a local media darling within weeks of his college basketball career ending, appearing on WSCR-AM 670, WGN-AM 720 and "Chicago Tribune Live" on CSN.
"The Score says they're going to pay me," Doyle said. "They took my Social Security number."
And: "Maybe with the Big Ten Network starting, I'll have the opportunity to do some games."
Within months of the network's launch in 2007, producers were using Doyle for studio work — basketball and football. That's a rarity for an analyst. BTN had him on site for its coverage of Michigan State's loss to North Carolina in the 2009 national championship game.
"This guy comes into BTN and has pretty nice deal right out of college, a premier player," says Jordan Cornette, one of Doyle's best friends in sports media. "Maybe he doesn't understand how lucky he is to be in that position, how to carry himself humbly, the nuance of relationships. There was an arrogance because it came so easily to him."
Doyle grew up on Long Island listening to New York sports talk radio, specifically "Mike and the Mad Dog" on WFAN. A space for shouting and wisecracks.
"Early on many of the executives at BTN were from New York, and they liked a little bit of friction," Doyle says. "Let's have some fun. Let's have some debate. I always found that to be good television. I didn't go into every segment trying to be Stephen A. Smith, but if I saw something, I was going to say it. But I wasn't mature enough to understand how to say it."
He would insist a team was a lock to make the NCAA Tournament when it wasn't. Or make a crack about a team being like "the Kardashians — getting everything they want."
Harmless stuff, but he also delivered lines that offended some.
He called Iowa forward Aaron White a "ginger" while describing a three-point play: "The ginger with the finish!"
Doyle never viewed that as a derogatory term for a redhead. But White's father did and let network executives know.
Doyle rankled Michigan State officials by dismissing the Spartans' chances of being invited to a bowl game over Michigan, "a national brand."
He thought he was being cute when he said of Penn State: "You can't spell Nittany without 'N-I-T.' "
Cornette warned him: Good luck having a working relationship with that school.
Says BTN Senior Vice President Mark Hulsey: "Tim was in a different place in his life when he worked at BTN and he had some lapses in judgment on the air. He was new when he came to the broadcast business and probably trying to make his mark a little too soon."
In 2017, BTN dropped him.
"The worst thing that happened was I lost my job there," Doyle says. "The best thing that happened was I lost my job there."
———
The new Doyle, 37 with graying sideburns and a job with NBA TV, reported for work at the United Center on Nov. 5. He spotted Kendall Gill on the floor before the game.
His heart raced.
Had it been six years?
Doyle and Gill clashed the day after a controversial Bulls loss to the Nuggets in March 2013. Joakim Noah appeared to tip in the game-winner, setting off a celebration. But officials used video replay to uphold their ruling of offensive interference.
It was a tricky call because of questions regarding whether the ball was in the cylinder and if it was on a downward trajectory with a chance to hit the rim.
Game analyst Stacey King bemoaned the call. So did Gill, working as a studio analyst for CSN. He said a superstar such as LeBron James would have gotten the benefit of the doubt from officials.
One day later on the same network, Doyle let loose during a guest stint on "SportsTalk Live," saying: "The call on Noah was 100% correct. I do not know what Stacey King was thinking (or) Kendall Gill. Both of you are my friends, but I unfollowed you on Twitter because you were 100% wrong."
So absolute. So personal. And given that King and Gill played for the Bulls, an implication they were being homers.
Still, no one could have expected what happened next.
Gill and Bulls/NBA expert Mark Schanowski watched the show from the office of CSN executive Kevin Cross. They were meeting to discuss a new project, but after Gill grew agitated listening to Doyle, he said he would go to the East Bank Club to blow off steam.
Gill, also 6-5 and a trained boxer, returned to the CSN newsroom about 25 minutes later "in a sullen mood," Schanowski said. "It blew up almost instantly. Kendall confronted Tim nose to nose. Tim didn't back down. He said some choice words, and then Kendall threw a punch."
Schanowski and senior producer Ryan McGuffey got between them, with Doyle being shoved into Cross' office.
Gill declined to be interviewed on the topic, texting: "I'd rather nothing be written about it at all and I hope (Doyle) told the truth. Particularly what he said to me right before I punched him in the face. Other than that, I have nothing to add."
Doyle also was reluctant to address it, saying he's "embarrassed" about what transpired. He never again appeared on the network. Gill returned to CSN (rebranded as NBC Sports Chicago in 2017) as the Bulls studio analyst in December 2015 after a gap of almost three years.
Doyle spotted Gill on the United Center floor Nov. 5 and said to himself: Now is the time.
He walked over, extended his hand and said: "I wish it never happened. I'm sorry."
Doyle says now: "That was not easy for me because I always looked at it as not being my fault. But I really wanted to squash this."
They chatted and asked about each other's families.
At the time, Doyle thought he was being edgy and creating "good television."
"I'm ruffling feathers," he says. "I'm taking a hard opinion. He's going the other way. Now my approach has changed."
Asked what the current-day Doyle would have said in 2013, he replied: "I understand where Kendall Gill is coming from. LeBron James plays by different rules. I just thought the call was pretty concise, that it was goaltending."
———
Doyle was at church in Glen Ellyn when a man he didn't know made eye contact. His first thought: Ugh, an Illinois State fan was about to hassle him for his call on a Redbirds game.
The man approached Doyle and asked: "Are you Chicago Joe's dad?"
Doyle replied: "Yeah, five bucks to take a picture with him."
Chicago Joe is Doyle's Mini-Me, a natural entertainer who likes to pick the ponies and took the Chiefs to win the Super Bowl. Minus the 1½ points, of course.
After Joe was born, Tim and Susie noticed his long fingers. And as Joe started growing, his back curved and his chest protruded. At that point Susie, with her medical background, was not surprised to learn he had Marfan syndrome, a connective tissue disorder with varying symptoms.
Joe is thin and struggles with stairs. He could grow to be 7 feet but cannot play contact sports and takes two medications that lower his blood pressure.
"You can live with it and have a regular life," Susie says. "You just have to go to a lot of doctors appointments."
The 7-1 Isaiah Austin was diagnosed with Marfan syndrome in 2014, and doctors told him his abnormally large arteries made playing basketball too big of a risk. NBA Commissioner Adam Silver made Austin a ceremonial pick to fulfill his dream of being drafted. Austin has played in China and Lebanon since getting medically cleared to compete overseas.
Joe's diagnosis made sense to Doyle. His father, Dan, is 6-8, and a brother is just 5-9.
Dan played briefly in the NBA for the Pistons in 1962-63 before turning to his next full-time job — sports betting. Big. Typically $500 to $2,000 ("two dimes" in betting parlance) per game.
"My dad was a gambler for a long time," Doyle says. "One day you'd root for the Mets and the next day you'd root against the Mets. That was our normal household."
They ate dinner at 5 o'clock because as 7 approached, the elder Doyle made his picks through three bookies. Tim and his dad would go to Jones Beach on summer nights and eat Double Stuf Oreos as they fiddled with the radio to pick up games as far west as Cleveland.
"We never went to the zoo," Doyle says, "but my dad said: 'I took you to the park. Belmont Park.' "
By 12, Doyle says he had his own off-track betting account.
So it fits that when he was at his lowest point, Doyle returned to his roots.
He asked Hulsey to lunch, apologized for the "immature" things he said on BTN and sought career advice, asking: What's the next big thing?
The answer: sports betting.
"Tim saw an opportunity," Hulsey says now, "and maybe I helped to reaffirm that."
Doyle is a fantasy expert for NBA TV, doling out advice on lineups from the comfort of his basement. He picks games and horses for CBS HQ and Sportsline.com. He also calls college basketball games for CBS Sports and was slated to work 18 days in March before the coronavirus pandemic.
"Tim has done a brilliant job of recalibrating and reshaping who he is," says Cornette, who recently left Chicago to become an ACC Network host for ESPN.
Doyle was part of the NBA TV crew at All-Star Weekend, during which Isiah Thomas told him he could become a modern-day Jimmy the Greek.
"I'll say this about Turner: If there are 38 people on the roster, I'm the backup punter," Doyle says. "But I'm on the team."
Doyle's No. 1 job, though, is to be the father of Joe and Rose, 3. They sat next to him a few weeks ago as he made harness racing selections online. Seconds after Tim rubbed his hands together in anticipation, Joe, wearing a fedora, did the same.
Then Doyle joked with Rose about being a "mush" — bringing negative mojo.
They recorded this from what Doyle calls "Studio A" in his basement, beneath a sign proclaiming that while at Northwestern he had "the best hair in the Big Ten."
"I originally started doing the videos with Joe as a way to boost his confidence," Tim says. "I want him to speak loud, look up."
Says Susie: "My initial thought was I don't want Joe to start a horrible addiction. But Joe loves it and Tim loves it, and it's fun when we're out. The other day our neighbor told him: 'Joe, I didn't know you were famous!' "
Challenges lie ahead for Joe, who will need heart and back surgeries.
In normal times, Tim and Susie encourage him to hit the jungle gym and build his strength.
"He looks at it as he's training for the police academy," Susie says. "He has made the comment: 'I'm really brave, like the policemen. If I fall, I get up and keep going.' He's the coolest kid."
Will Joe develop his dad's sense of humor? Will he one day have his dad's willingness to evolve?
How could he not?
The Doyles have strong traits.
As Tim was talking about Joe, calling their sports betting videos "therapy for me," his son walked into the room.
"Got the mail?" Tim asked him. "Any checks?"
———
©2020 Chicago Tribune