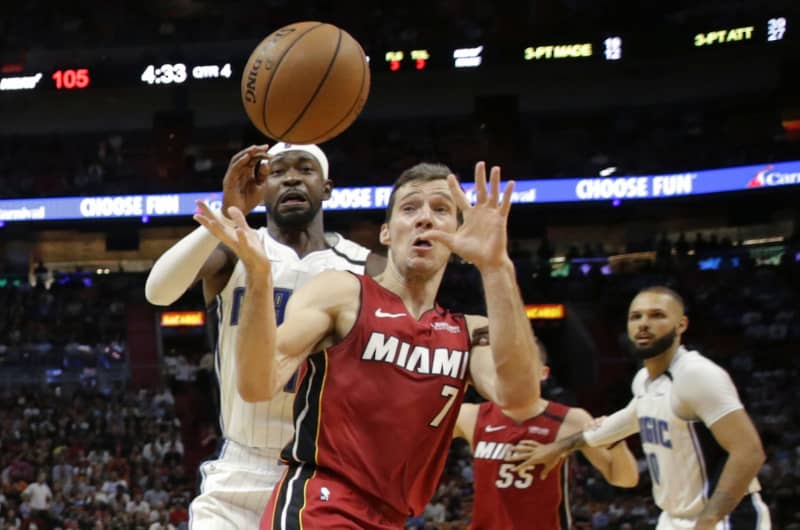 MIAMI — A likely drop in the NBA's projected $115 million salary cap for next season makes it more likely that the Heat will keep this team mostly together this offseason, and NBA rules leave Miami in good position to achieve that.
The reason: If the Heat opt to operate as an over-the-cap team instead of as a room team this summer, Miami could simply bypass potentially $27 million in cap space and use its free agents' Bird Rights to exceed the cap to re-sign any or all among Goran Dragic, Jae Crowder, Meyers Leonard and Derrick Jones Jr., with the Heat also having Bird Rights on its two other unrestricted free agents — Solomon Hill and Udonis Haslem (who might retire).
That's the good news for the Heat, with a drop in league revenues likely to result in either a moderate or significant drop in the projected cap.
But here's the area where a lower cap would impact the ability of the Heat and other teams even if Miami opts to re-sign its own free agents instead of operating as a room team:
A drop in the cap would also result in a drop in the luxury tax threshold, which was projected by the NBA to be $139 million next season.
With the Heat in line to pay a small tax this season, Miami will be determined to avoid being a tax team next season because it doesn't want to fall into the more punitive repeater tax category.
And this cannot be altogether discounted: As chairman of Carnival Corporation, the world's largest cruise operator, Heat owner Micky Arison is affected more adversely than many other NBA owners during this global health crisis, though it's impossible to say whether this will have any impact on Heat business.
So let's say the cap and tax line stay where they are for 2020-21, which seems highly unlikely.
In that scenario, the Heat would have about $87 million committed on its cap to 10 players: Jimmy Butler ($34.4 million), Bam Adebayo ($5.1 million), Andre Iguodala ($15 million), Kelly Olynyk ($13.6 million presuming he doesn't opt out), Tyler Herro ($3.8 million), Kendrick Nunn ($1.7 million), Duncan Robinson ($1.7 million), KZ Okpala ($1.5 million), Chris Silva ($1.5 million) and its first-round pick in the upcoming draft (around $3 million), if it is not traded. That $87 million includes the waive-and-stretch hit for Ryan Anderson ($5.2 million).
Now, using Bird rights, let's say the Heat re-sign Dragic to a one-year deal paying him the same $19 million he's earning this season. That brings Heat payroll to $106 million.
Let's say the Heat then gave one-year, $8 million contracts to Crowder (earning $7.8 million this season), Leonard ($11.2 million) and Jones ($1.6 million), though Jones is expected to seek a multiyear deal paying more than that.
Though Jones' cap hit would be less than $2 million, those three re-signings would amount to $24 million in actual salary, bringing the Heat's payroll (for tax purposes) to $130 million.
In normal times, that would allow the Heat to avoid the tax and use all or nearly all of its biggest remaining carrot (a $9.8 million midlevel exception) to add what would assuredly be a quality player, with Enes Kanter, Tristan Thompson, Paul Millsap, Austin Rivers, Reggie Jackson, Markieff Morris, Aron Baynes and Jordan Clarkson among many free agents who might need to take all or a portion of mid-level money.
But let's say the cap and tax both drop, and the tax line comes in at around $128 million. That would mean Miami would need to choose maybe three (or four, depending on the combination) among Dragic, Crowder, Jones, Leonard and using its full midlevel. If Miami kept Dragic, Crowder and Leonard, there likely would be no room to keep Jones and use the midlevel.
So this could come down to keeping Dragic and Crowder, and then weighing Jones and Leonard against midlevel options in free agency.
Such a decision could also face the Heat if the tax line for 2021-22 is kept at this year's $132.6 million, which is another possibility.
The Heat, incidentally, also will have a $3.8 million bi-annual exception, plus a $7.5 million trade exception that can be used until early next February, but none of the exceptions can be combined. And the $7.5 million trade exception cannot be combined with a player earning $7.5 million to bring back a player making $15 million, for example.
But even if the cap and tax threshold line maintain their current projections (which is unrealistic), there would not be enough room under the tax line to use those two exceptions if Miami re-signs Dragic, Leonard, Crowder and Jones and uses the $9.8 million exception.
How much the cap will drop remains the great unknown, dependent on whether the season can resume and the result of negotiations between the league and union. Even if the season can be salvaged, the likely inability to have fans in the stands obviously would impact revenue.
The league's salary cap is tied to "Basketball Related Income." If that BRI drops, then the salary cap falls by an equivalent percentage.
During work stoppages or extenuating circumstances in the past, the NBA and union typically negotiated in good faith to determine a cap adjustment that would smooth a drop over several years, making it less likely that there would be an astronomical drop next season. They also can base revenue on projections for 2020-21 instead of this season. CBS' Sam Quinn has a good explanation here for factors in play in determining next season's salary cap.
And Quinn makes a suggestion that would make it easier for the Heat and other teams to keep together their rosters and potentially augment them:
The NBA should lift the luxury tax for one year.
There's no indication if that has been broached — and it's too early for those discussions anyway — but it's something the union should push for, because it would remove artificial impediments to signing players during a recession.
So even if the cap and tax lines drop, the Heat would be in good shape to keep most of this team together. But adding to it in free agency? Then it becomes considerably more difficult.
———
©2020 Miami Herald