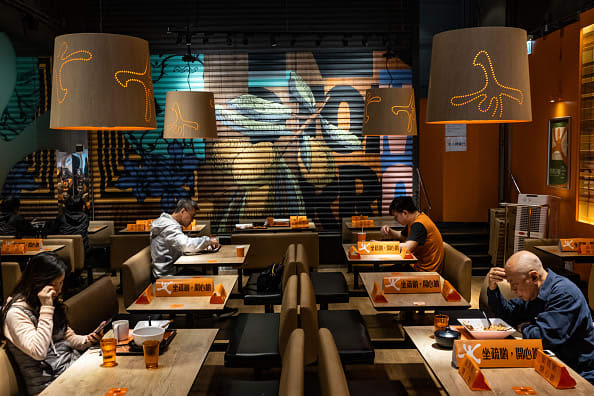 Hong Kong Financial Secretary Paul Chan said Wednesday the city's economy is estimated to contract between 4 percent and 7 percent this financial year as the impact of the coronavirus pandemic was worse than expected.
"The scale of contraction of Hong Kong's economy in the first quarter this year could be much worse than that during the (2008) global economic tsunami or the Asian financial crisis (in 1997-1998)," Chan told the Legislative Council. "The impact of the epidemic on the economy is more severe and long-lasting than expected."
Chan had earlier forecast gross domestic product for the 2020 financial year ending March next year to be in a range of minus 1.5 percent to 0.5 percent.
He said the three economic pillars of foreign trade, local consumption and investment all suffered under the pandemic.
In particular, export volume dropped nearly 10 percent and the jobless rate rose by 0.5 percentage point to 4.2 percent in the first quarter compared with the same period last year, while tourism numbers in February and March were down 96 and 99 percent, respectively, from a year ago.
The budget deficit for the 2020 fiscal year is expected to be HK$280 billion, double the previous year.
Taking into account the economic downturn and the several relief packages to ease economic hardship brought by the pandemic, Hong Kong's fiscal reserve will dwindle from around HK$1.1 trillion to about HK$900 billion.
Hong Kong has reported no new coronavirus infections since Sunday, with the total tally staying at 1,037, with four deaths and 829 people having been discharged from hospital.
Other than the pandemic, Chan also expressed concerns over the unending social unrest that has been dogging the territory's retail and tourism sectors since June last year.
The anti-government protests are showing signs of a revival after a three-month hiatus for the pandemic. Three rallies held in shopping malls in recent days have ended with police intervention, citing a violation of a public gathering ban imposed to fight the pandemic.
"If the violent protests...happen again, more shops will go out of business and foreign investors will stop coming, people will lose their jobs and families lose their income, no government relief will suffice," Chan said.