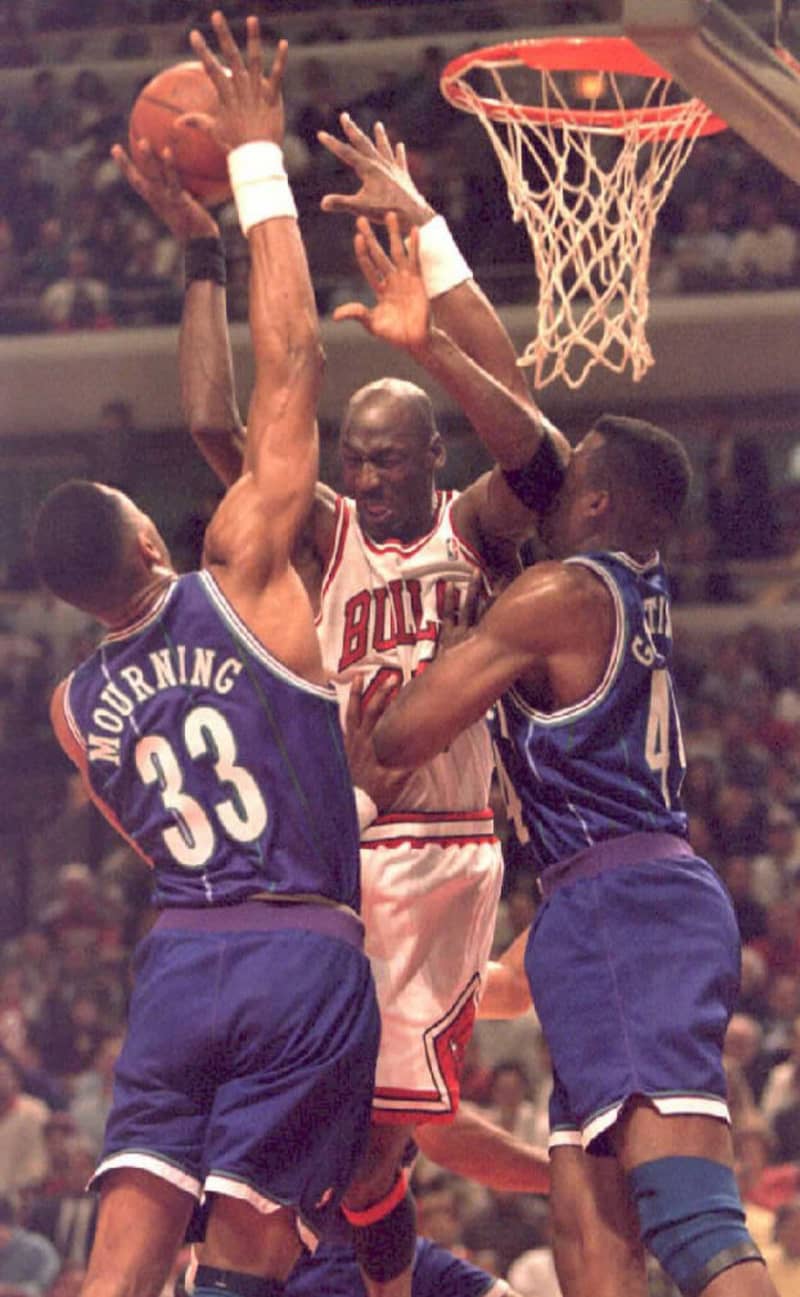 Michael Jordan was barely one month into his NBA return when the Chicago Bulls began a first-round playoffs series with the Hornets in late April 1995.
Chicago won Game 1, 108-100, on April 28 and was leading the best-of-5 series 2-1 when the teams met, exactly 25 years ago — May 4, 1995.
Charlotte needed to win to force a deciding Game 5 in Chicago, and as point guard Muggsy Bogues remembers, the Hornets had two shots to win in the final seconds before losing, 85-84.
Jordan, wearing No. 45 and not his famous 23, played 41 minutes. He had returned to the NBA in March after a 21-month retirement that included a stint playing minor league baseball.
In Game 4, he scored 24 points, making eight of his 21 field-goal attempts.
Scottie Pippen (24 points, eight rebounds) and Toni Kukoc (21 points, 11 rebounds) had big games. But all eyes, as always, were on Jordan.
"We didn't really look at the number, but it just more or less him being back," Bogues said Monday. "He wasn't all the back to the MJ we were accustomed to, but he was still the best player out there. But man, we felt like we had that series."
Bogues was playing through a knee injury that would require off-season surgery and forced him to miss the entire 1995-96 season, but he'll never forget the ending to the game.
Down one point with 5.1 seconds left, Hornets star Larry Johnson missed a jump shot and Hersey Hawkins got the rebound and had what looked to be the game-winning layup. Jordan appeared to foul Hawkins, but the whistle never blew.
Observer columnist Tom Sorensen wrote the following:
"Michael Jordan hacked Hawkins, hacked him clearly. There was no doubt about this one, no replay to assess, no debate. Jordan fouled Hawkins and Hawkins should have shot two free throws. A call was made. It was made by Jordan … He crossed his arms, waved off the foul. And so did the officials. And the Bulls had an 85-84 victory."
Hornets coach Allan Bristow said Hawkins "got hammered by Jordan. Jordan came right down on his shoulder."
"I thought I was going up with the shot then my arm was grabbed," Hawkins said. "That made the shot come up short."
And Jordan didn't exactly deny it.
"If that's what they're crying about over there, they can cry about it," Jordan said. "The refs missed more than one call tonight."
Chicago lost in the next round, the Eastern Conference semifinals, when the Bulls were eliminated in six games by Shaquille O'Neal, Penny Hardaway and the Orlando Magic.
That was the last time a Jordan-led Bulls team lost a playoff series. They won three straight NBA championships after that.
Twenty years later, Bogues still remembers the no-call on Jordan and the opportunity his team had.
"(David Wingate) played extremely well during that series," Bogues said. "We just felt like we had them. That was our year. We believed we would've won Game 5. I think that was the prime time to get them. I mean, if MJ didn't retire, there's no telling how many they would've won in a row."
Bogues said he's enjoying watching "The Last Dance" documentary, which covers most of his playing days as a professional and players he regularly went up against.
It's also reminding him, and the rest of the world, just how good No. 45, er, No. 23 really was.
"He's the best I've ever seen," Bogues said. "He had it all. He had the swagger, the confidence, the killer instinct. He could score in so may ways and he had the fundamentals along with his athleticism. No one could guard him 1-on-1, and double-teams couldn't stop him. He could just keep elevating his game.
"The closest thing I've seen to that is Kobe. I love LeBron (James) and he has a massive physique and legacy of his own, but Kobe could score like MJ and had the footwork like MJ. It's just such a beautiful thing to watch, to sit back now and watch (the documentary) because when you're in the moment, you're not looking at all that."
Especially when you've got a real chance to beat him.
———
©2020 The Charlotte Observer (Charlotte, N.C.)