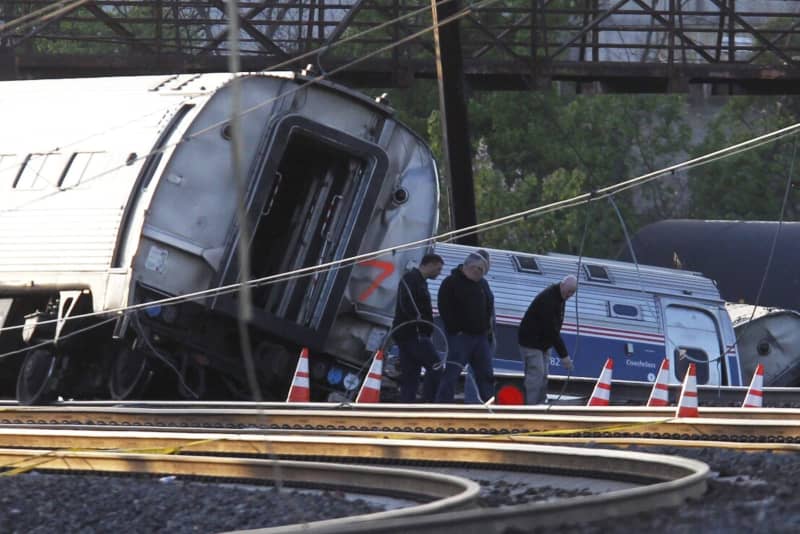 PHILADELPHIA — The Amtrak engineer who operated a train that derailed in 2015 in Philadelphia, killing eight people, can be tried criminally for the deaths and injuries, a Superior Court judge said Thursday.
The decision came just days after the May 12 derailment's five-year anniversary. The case against Brandon Bostian had been dismissed last July, but Superior Court Judge Victor Stabile ruled that the dismissal was based on fact-finding that should happen in a trial.
Bostian's lawyer, Brian McMonagle, said he would appeal the decision.
Bostian accelerated Train 188 to 106 mph, more than twice the posted speed limit, as he approached a bend in the tracks shortly after stopping at 30th Street Station. The speed derailed the train in Port Richmond, and the accident also caused more than 150 injuries. The state Attorney General's Office has pursued 216 counts of reckless endangerment, one count of causing a catastrophe, and eight counts of involuntary manslaughter against Bostian, charges reinstated by Stabile.
"The families who lost loved ones in this fateful crash and the many passengers who were injured deserve closure," the Attorney General's office released in an emailed statement.
Common Pleas Court Judge Barbara McDermott decided in July that the crash did not rise to criminal recklessness. She considered the defense argument that Bostian had become confused about where he was and accelerated without realizing a curve was ahead of him. Stabile, though, said that should be evaluated in a trial, not by a judge in a pretrial hearing. McDermott's role was only to determine whether the state presented enough evidence to warrant a trial, and prosecutors met that burden, he ruled.
He noted in his ruling that there was evidence Bostian knew exactly where he was on the tracks immediately following the derailment but later at the hospital asked if he was in New York. He also wrote it was not appropriate for McDermott to consider the defense's argument that Bostian was distracted by reports of a rock striking a nearby SEPTA train, which McMonagle argued made the derailment a tragic accident. The value of either piece of evidence needs to be determined in a trial, Stabile said.
"We believe that it would have been unconscionable for the judge to refuse to consider this evidence in evaluating whether the commonwealth met its burden of proof," McMonagle said in a statement Thursday. "It is vitally important that we allow our judges to hear and consider admissible evidence at preliminary hearings in determining whether a citizen should be charged with a crime."
A federal investigation concluded that Bostian had no alcohol or drugs in his system and was not using his cellphone at the time of the derailment. Bostian told investigators from the National Transportation Safety Board that he couldn't remember why he didn't slow the train as it approached the curve.
The case against Bostian has seen a series of reversals of prosecutors' or judges' decisions that the engineer should not be held criminally culpable for what happened that night.
———
©2020 The Philadelphia Inquirer