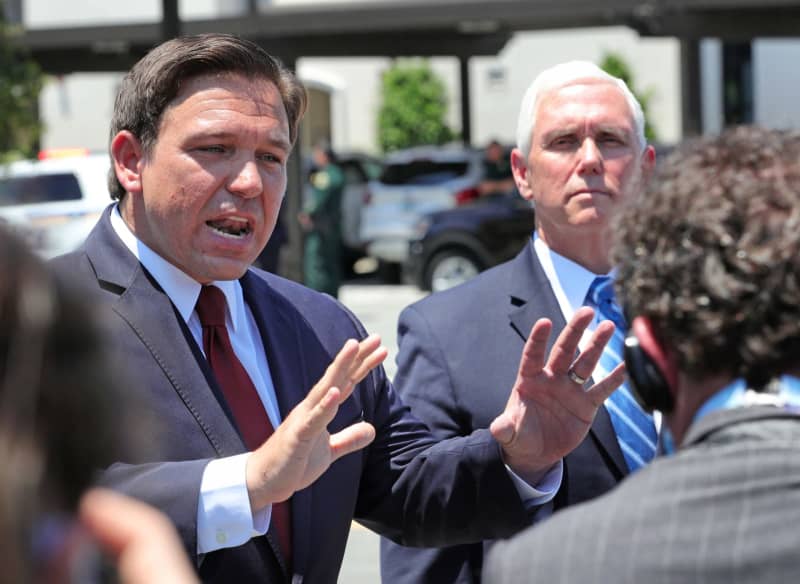 Professional sports are stirring out their coronavirus hibernations. They are looking for places to train and play, but they aren't sure where to do it.
Come on down to Florida.
That's what Gov. Ron DeSantis has been preaching, and it seems people are listening. Among them are the governors of California, New York and New Jersey.
Until last week, they were skeptical of games being played in their states before a coronavirus vaccine was developed. The prospect of their teams temporarily locating to Florida might have changed that view.
"Money changes everything," tweeted Richard Sherman, a cornerback with the San Francisco 49ers. "Teams started exploring other options outside the state and all of a sudden the timeline changed."
Money no doubt has a lot to do with it. But the governors might also have sensed their beleaguered citizens are starving for entertainment diversions.
Sports tops that menu, and millions of fans have been served mostly cold leftovers for months.
"You get tired of looking at 9-year-old baseball games, and playoff games that took place 12 years ago," President Donald Trump said.
We don't often compare to Trump to Franklin Roosevelt, but he nailed this issue. FDR urged Major League Baseball to keep playing during World War II so Americans would have an entertainment diversion.
Today's fans apparently crave one just as badly during the war on COVID-19. NASCAR restarted its engine on May 17, and ratings for the race in Darlington, S.C., were up 38% over the last pre-shutdown race.
Baseball fans have been watching Korean Baseball Organization games at all hours of the night. What would they give to see a Yankees-Red Sox game, even if nobody is in stands?
Every major sport has come out with reopening plans ladled with contingencies. One potential complication is testing. Leagues are sensitive to the perception they might be taking tests away from the public, so they are working to get their own.
A bigger issue is location. Some cities may not be amenable to games as early as June.
If they don't want them, we'll take 'em.
"Any of those leagues that have teams in states that won't allow that competition, we can find places here in Florida," DeSantis said. "We believe getting sports back online is important for the nation's mojo."
Any activity increases risks, but worries of sports-induced coronavirus doom have not come true so far.
Leagues have extensive health protocols in their plans. Among baseball's many new restrictions: no spitting.
The risk to the public would be minimal since fans would not be allowed into games. That could change as the coronavirus curve continues to flatten and, we hope, keep dropping, though no league foresees even limited attendance before September.
What might fans see, at least on TV?
Baseball teams could return to their Florida spring training sites for abbreviated training. The NFL reopened its training facilities last week and hopes to proceed with its fall schedule. That prospect improved when California Gov. Gavin Newsom and others reversed field last week.
Pennsylvania Gov. Tom Wolf remains a holdout. If he doesn't allow games in Pittsburgh and Philadelphia, the Steelers and Eagles would find a welcome mat at Camping World Stadium.
The biggest impact in Florida could come from basketball and soccer. Major League Soccer is considering bringing its 26 teams to train and play a tournament at Disney's ESPN Wide World of Sports.
That site has also reportedly emerged as the front-runner for the NBA's return. The league plans to create an isolated "campus" environment for a playoff tournament, meaning the NBA championship trophy could be hoisted in Orlando, Fla.
With all due respect to the Magic, who would have dreamed that three months ago?
Between the sprawling Wide World of Sports complex and other facilities, central Florida is one of the few spots on earth that could entertain the thought of being ground zero for the return of sports.
Given the precautions leagues would take, the rewards of the sports revival outweigh the risks. The economic impact would certainly be muted since fans wouldn't be booking hotel rooms or packing restaurants.
But a pent-up emotional impact has been waiting to watch LeBron James dunk or Wayne Rooney score a goal or Aaron Judge hit a home run.
If sports needs a place to help get America's mojo back, we have just the spot.
———
©2020 The Orlando Sentinel (Orlando, Fla.)