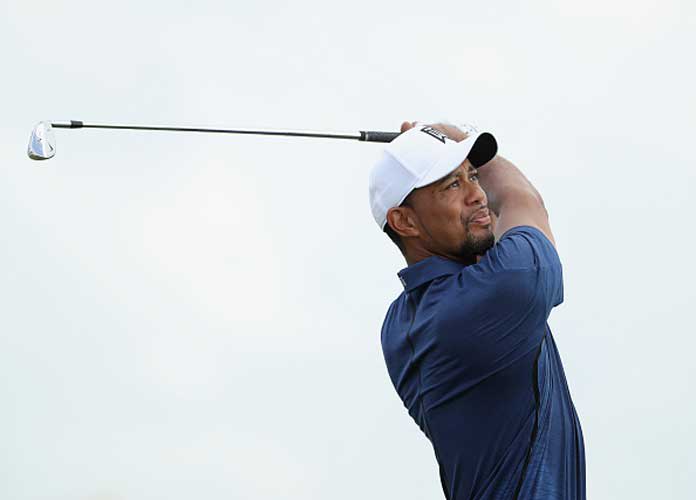 Last week, we had TaylorMade's Driving Relief charity skins match which raised $5.5 million for coronavirus relief. On Sunday, The Match: Champions for Charity, which featured Tiger Woods, Phil Mickelson, Peyton Manning and Tom Brady, collected $20 million for coronavirus relief.  
Woods and Manning ultimately defeated Mickelson and Brady, in your typical Florida weather in the springtime – a lot of rain. It also came down to the final hole with many fun and entertaining moments, here is the recap if you didn't watch:
Hands down the shot of the day went to Brady when on the seventh hole, after playing not up to par (no pun intended) for the first six holes. The comments on Twitter came in large numbers with average fans saying that they could beat Brady on the golf course. Even Charles Barkley, who was an analyst for the event and is a notoriously poor golfer, was getting in on the ribbing of TB12. That all came to an end though when on the seventh hole, hitting his fourth shot from 100 yards from the hole, with Barkley ripping on him, Brady sank a remarkable birdie to tie the hole. From that point on, Brady played rather solidly, holding his own.
Brady might have had the shot of the day, but the best performer of the day had to have been Woods. The event was held at the Medalist Golf Club, Woods' home course, and it showed that he knew what he was doing. The last time we saw Woods play on the PGA Tour was back in February at the Genesis Open, where Woods finished in 68th, a 11-over par. The way he performed on Sunday, should give some fans hope that Woods could make a run once the PGA Tour season resumes.
Leading up to the event, Mickelson was arguably talking the most smack. Remember, in the original 'The Match,' Mickelson came out victorious over Woods in Las Vegas, winning $9 million, and Mickelson refused to let Woods forget that point. During the event, although his game might not have been at its best, Mickelson still kept the enthusiasm, taking shots mainly at Woods.
Then there was Manning, similar to Mickelson, he poked continuous fun at his opponent in Brady, bringing up Brady's Super Bowl losses and how he would have Bill Belichick caddy for him given Brady's recent departure from New England. Manning held his own out there as well, playing some really good golf despite the rain, dialing it on the par-3s especially.
Overall, The Match: Champions for Charity, was in my opinion a success, raising a huge amount of money for coronavirus relief while also showing that golf can be fun and entertaining to watch.
The PGA Tour is set to resume its season starting on June 11 with the Charles Schwabb Challenge.