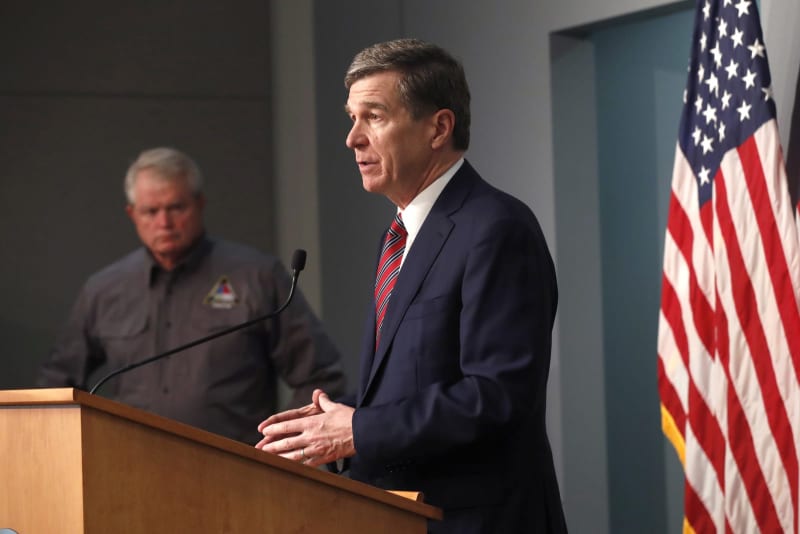 President Donald Trump Tuesday escalated his threats over this summer's Republican National Convention, saying he needs a decision from North Carolina Gov. Roy Cooper "within a week" as to whether the convention can go forward as planned.
"We need a fast decision from the governor," the president told reporters at the White House. "He's been acting very, very slowly and very suspiciously, but we'll find out. We're talking about a very short period of time … . I would say within a week that certainly we have to know. if he can't do it, if he feels he's not going to do it, all he has to do is tell us. And then we'll have to pick another location. And I tell you a lot of locations want it."
Trump's comments came about two hours after Cooper said public health and safety, not politics, will be the "guiding star" of any decision to allow the Republican National Convention to go forward in Charlotte.
It was the first time Cooper, a Democrat, had personally responded to Trump's Monday tweets threatening to move the convention from Charlotte.
The convention is scheduled to start Aug. 24 and run for four days at the Spectrum Center. It was once expected to bring 50,000 people to Charlotte, though there likely will be fewer now.
"I'm not surprised by anything I see on Twitter," Cooper said. "It's OK for political conventions to be political but pandemic response cannot be … We'd like to reach a resolution that everybody can be reasonable about."
The duel reflected the tension between state officials like Cooper who are gradually reopening the economy and those like Trump who want it done more quickly.
North Carolina just moved into phase two of its reopening, with businesses such as restaurants, barber shops and salons opening on a limited basis. But the economy has taken a severe hit. Through Tuesday nearly 949,000 North Carolinians had filed unemployment claims, according to the N.C. Department of Employment Security.
Convention officials are spending millions on the event. They've planned to take over the Spectrum Center in mid-July and prepare it for the convention, including by raising the arena floor.
Trump threw all those plans up in the air Monday.
"Unfortunately, Democrat Governor, @RoyCooperNC is still in Shutdown mood & unable to guarantee that by August we will be allowed full attendance in the Arena," Trump tweeted. "In other words, we would be spending millions of dollars building the Arena to a very high standard without even knowing if the Democrat Governor would allow the Republican Party to fully occupy the space."
Cooper said state health officials have asked convention organizers to provide written plans about how they would ensure the health of delegates and other convention-goers.
"We're talking about something that's going to happen three months from now, and we don't know what our situation is going to be," Cooper said Tuesday. "These are the same kind of conversations were having with the Carolina Panthers, the Charlotte Hornets … . everyone wants to get back in action soon … . but everyone knows we have to take steps to make sure people are protected because this virus is still going to be with us in August."
On Tuesday Trump called North Carolina "a very important place to me."
"But at the same time … we have a governor that doesn't want to open up the state. And we have a date … at the end of August and we have to know before we spend millions and millions of dollars on an arena to make it magnificent for the convention . .. The economic development consequences are tremendous for the state. We have to know that when the people come down they're going to have the doors open.
"Now if the governor can't tell us very soon, unfortunately, we'll have no choice. This is nothing to do with us. This is between the governor and North Carolina and the people of North Carolina … . Now (Cooper's) a Democrat and a lot of the Democrats for political reasons don't want to open up their states so we'll see if that works, but i don't think it will."
At another press conference Tuesday, White House Press Secretary Kayleigh McEnany said the president "wants to see the convention take place."
"And he wants to have a cooperative governor in making that pursuit happen," she said. "That being said, of course we always assess the facts on the ground at any time."
Already other states have started to woo the event. Florida Republicans said they would welcome the convention.
On Monday, Charlotte City Council member Ed Driggs, one of the council's two Republicans, questioned Trump's authority to pull the convention. Charlotte has contracted with the party's Committee on Arrangements.
Driggs said he doubted that any other city could put together a convention now given the two-year process Charlotte has undertaken, including arranging a venue, hotel space and related contracts. He said the council has already accepted a $50 million federal security grant for the convention in April.
"This is the kind of thing that happens in politics, where, and particularly the president is known for dramatic gestures," Driggs said. "I don't know whether that tweet by him is supported by the Republican Party and all the people with whom we have been in negotiation for a couple of years."
———
©2020 The Charlotte Observer (Charlotte, N.C.)