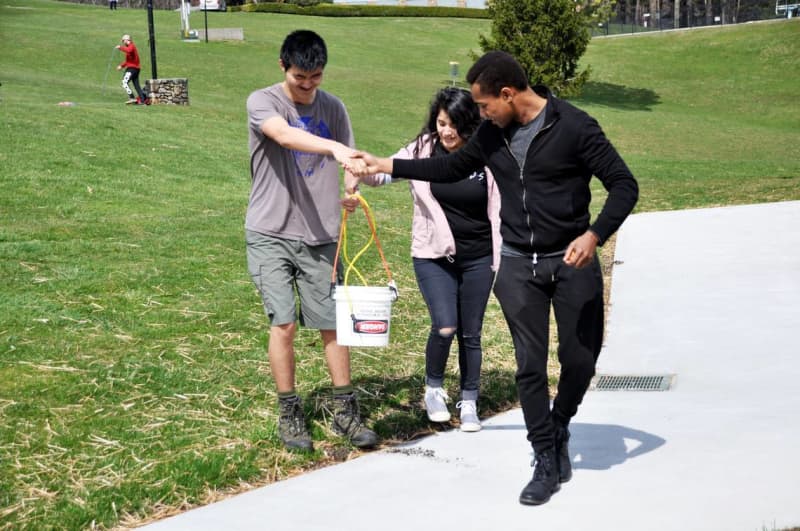 CHARLOTTE, N.C. — Asked what he intended to do after dropping out of E.E. Waddell High School in Charlotte at age 15, Christopher St. Hilaire doesn't even flinch before providing an explanation.
"My plan was to play video games, eat fast food, and do that till like 3, 4 in the morning. Every single day. All the time," he recalls.
Maybe it was in his blood. Not the part about being a couch potato, but rather the idea that getting even a halfway-decent education simply wasn't important.
After all, his father had skipped out of secondary school while growing up on the tiny island of Domenica in the Caribbean's Lesser Antilles; his mother, whose family immigrated from Barbados, gave up on her high school in New York at age 16. Neither of them ever saw the inside of a classroom again.
Christopher, too, had zero interest in ever returning, and therefore no designs on attending college — making what happened this month not just remarkable, but flat-out astonishing.
On a rainy, gloomy Wednesday afternoon — May 6, eight days before he would graduate with an associate degree from Central Piedmont Community College — Christopher St. Hilaire went to the rooftop of Parking Deck 3 at CPCC with his laptop and nervously clicked on the "Check Status" with the lid tilted down. When he tilted it back up, he began crying, then screaming, then running around the rooftop like a madman.
And it was absolutely news worth going crazy over.
He'd just learned that Princeton University — one of America's oldest and most prestigious institutions, an Ivy League school with an acceptance rate of less than 6% — was giving him the opportunity to join its class of 2022 as a 25-year-old junior. When he begins the fall semester, this former high school dropout will be among an elite group of 13 students who were invited to transfer to Princeton from community colleges across the country (out of 905 who applied), and he'll attend free of any financial burden.
All of which begs a question:
How in the world is this possible?
'I WAS LOST IN THE MOTIONS'
St. Hilaire was born in Manhattan, but his parents moved to Charlotte when he was 5, so he grew up in the city's public schools — Pinewood Elementary, Sedgefield Middle, and then on to E.E. Waddell.
High school was not a happy time, though.
His grades, he says, were mostly C's, and he managed to fail some classes here and there. He shunned sports and other extracurricular activities in favor of playing those video games and watching Japanese anime movies, progressively becoming more and more isolated from his peers. He felt rudderless and unmotivated at best, and completely invisible at worst.
By his sophomore year, he remembers feeling like nothing he did or said mattered.
Yet there were glimmers of a creative, intellectual side. St. Hilaire says he would often hole up in the library reading tomes by deep thinkers like George Orwell and Aldous Huxley. He also had a passion for drawing. Even his description of how he was feeling about his place in the world at the time is thought-provoking:
"I was lost in the motions, if that makes any sense, and I definitely felt like I was only the reflexes of other people's existence," he says. As for the way he felt about school? "I didn't see any value in the curriculum, and I didn't see any value in the education."
So in January of 2011, a couple months shy of his 16th birthday, he stopped going to classes and started doing nothing but play video games — his go-tos were war games like "Battlefield" and fighting games like "Tekken" — every single day. All the time.
His father was intensely resentful of the decision, and remained so for years. His mother, meanwhile, tried to be more understanding, but remembers feeling profoundly disappointed.
"As a parent, you want better for your kids," Marcia St. Hilaire says. "You want them to accomplish more than you have. You want a better life for them than you had. … I did not like him following in my footsteps."
After a few months of hardcore gaming, though, Christopher finally got sick of it. So he put down the controller, picked up the internet, and informally developed his own curriculum, with the only goal being to devour information.
Over the next few years, he spent most of his time hunched over his laptop studying a wide variety of subjects — art, mythology, medicine, philosophy, mathematics, corporate finance. Whatever interested him from moment to moment. He would write things down or print things out that seemed worth further consideration and affix them to his wall; eventually, his entire room was plastered floor to ceiling with pieces of information.
"I had no idea what I wanted to do," he says. "I just wanted information. And as that continued, I started realizing, 'Man, I've got to home in on this in some way.'"
So in 2014, he enrolled in a program at Central Piedmont Community College designed to prepare high school dropouts for the GED exam; in 2015, he passed it; in 2016, he got hired as a banquet server at Crowne Plaza Charlotte Executive Park off of I-77 at Tyvola Road and started saving for college; in 2017, he moved on to a serving job at Ballantyne Country Club.
Needless to say, St. Hilaire wasn't homing in on that thirst for knowledge very quickly.
But on New Year's Day 2018, he says, everything changed.
'I WANTED TO LIFT SOMETHING HEAVY'
"At the end of that year, I started thinking about my place in the world, and … about how I wanted to impact the world," he says.
So on Jan. 1, 2018, he got in his car and drove four hours west to the Cherohala Skyway near Robbinsville, N.C., and found the Unicoi Crest Overlook, from which Tennessee and Georgia (and on a very clear day, also South Carolina) can be seen.
"I was just standing there, like, staring into the eyes of the world," St. Hilaire says, "and I felt small, but I also felt big at the same time. At that moment, I just realized that I wanted to do something. I wanted to lift something heavy. I wanted to have some kind of meaning."
He had another realization, too: Ballantyne Country Club was full of important people with important jobs. So when he got back to work, he became much more intentional about striking up conversations with members.
Eventually, someone said he needed to get to know Chris Floyd, a club member who had a Harvard MBA, a job as a managing director at Wells Fargo Securities, and a reputation for mentoring young African American males from disadvantaged backgrounds.
As Floyd recalls, St. Hilaire approached him one day out of the blue while he was hanging with friends and basically asked if he could pick his brain about investment banking (which St. Hilaire says was just one of many fields he was fascinated by at the time, but focused on here because, well, he knew his audience).
Floyd asked St. Hilaire to tell him his story, and after hearing it — despite the part about dropping out of school — he was convinced that the young man was "highly intelligent."
They set up a mentoring session. After that first meeting, Floyd says, "I realized he was as well-versed on investment banking and the market as kids who were coming out of college that I was interviewing for jobs. … But I told him: 'There's a few steps that you have to take between where you are right now and becoming an investment banker.'"
First step, community college, and an associate's degree. Then, transferring to a four-year like the University of North Carolina at Chapel Hill would be a great long-term goal.
"I think you have the ability," Floyd told him, "if you're patient."
St. Hilaire was done being patient, though. He felt like he had probably been patient already for too long.
'YOU HAVE TO BE PATIENT'
He made a beeline for Central Piedmont Community College — it was February at this point — and enrolled in the school's second short session, which runs from mid-March to mid-May. Then he made another beeline, for the school's Student Life office, eager to get signed up for as many activities as possible.
"He showed up in our office and he's like, 'I'm ready to get plugged in. What can I do?'" recalls Jennifer Conway, coordinator of Student Life at CPCC. "I said, 'I feel your energy and I'm so excited to figure out how we can connect you … but: You haven't even started classes yet!'"
With steady guidance from Floyd and Conway, St. Hilaire aced his first full year at Central Piedmont, both in the classroom (where he earned straight As) and with extracurriculars (joining both the Student Government Association and Rotaract, which is Rotary International's program for young leaders and young professionals).
Floyd even started dropping hints in their meetings about Ivy League schools, pointing out that there were transfer admission programs for nontraditional students.
But while St. Hilaire was blossoming impressively, he hadn't yet learned patience.
"When I came to Central Piedmont, my main goal was to transfer into a four-year — and I kind of obsessed about that," he says. So, still a year shy of earning his associate's degree, he decided to apply to Emory, a private university in Atlanta that (like Duke) is often referred to as a "Southern Ivy" because of its reputation for high academic standards.
Floyd says when St. Hilaire called to ask him if he'd write a recommendation letter, "I said to him, 'Well, this is kind of off-cycle. Where is this coming from?' And basically, he said he had gotten anxious. I said, 'Look, I'll write your recommendation, but I'm not sure if this is the right time. Is this what you really want to do? If you get into Emory, is this really where you wanna go? Or is it just because you're in this rush now to move forward?' And he said that, yeah, he was in this rush to move forward."
St. Hilaire's Emory application was rejected.
"That's a very good indicator," Floyd told him at the time, "that you have to be patient.'"
Adds St. Hilaire: "The lesson to be learned there was that my time at Central Piedmont wasn't finished."
'YOU CAN TRANSFORM YOUR LIFE'
He kept getting exceptional grades, but he focused more of his out-of-the-classroom efforts on activities that he felt a deeper personal connection to.
One of those was volunteering with a nonprofit organization in uptown Charlotte called The Relatives, which provides support to young people who are homeless. His role? For more than two years now, he's been — fittingly — a GED teacher for those who have dropped out of school.
In early April, St. Hilaire got what was, to that point, the happiest news of his life: He'd been accepted to UNC Chapel Hill.
Though he still hadn't heard back from Princeton, and wouldn't for another month, he basically wrote off his chances. He was so all-in as a Tar Heel that he went out and bought UNC shirts, hats, stickers and decals and began making arrangements with his friend Ahsan Mehmood (a CPCC student who had just been accepted to Chapel Hill's prestigious Kenan-Flagler Business School as a transfer student) to get a place together near campus for the fall.
But on May 6, the email popped into his inbox saying Princeton had made its decision, and St. Hilaire went up to the roof of the parking garage to see what that decision was.
"I am thrilled to offer you admission to Princeton! Congratulations!" the letter read. "Your academic accomplishments, extracurricular achievements, and potential campus contributions stood out in a pool of over 900 applications."
Cue the screaming and the running around like a crazy person.
Soon after, Central Piedmont posted an announcement on its website heralding the fact that two of its 2020 graduates are headed to Ivy League schools — the other being Koichi Takara of Huntersville, who will enter Cornell University in New York as a junior majoring in industrial labor relations in the fall. Both Takara and St. Hilaire (who will major in philosophy) will be receiving financial aid packages that will cover tuition, room and board.
But for what it's worth, Takara feels that St. Hilaire's journey to a four-year university is far more remarkable than his own.
"I take no offense in having my story be overshadowed by his incredible journey," Takara told the Observer this week. "Christopher and I are great friends, and we both often joke that he should write a book about his comeback."
While he still can't quite believe that he's headed to the school he's headed to, there's one thing he knows for sure: "If I had stayed in high school … to be frank, I don't even think I would have gone to college. … I don't see it. I just wasn't the person then that I am today. I really needed that time to kind of find myself."
He needed that time, and this path, to realize that his actions do matter. That what he says matters.
That he matters.
St. Hilaire didn't give a speech at the graduation ceremony for Central Piedmont's spring class of 2020 — it was virtual, of course, due to the pandemic — but this is perhaps what it might have sounded like, had he been asked.
"I came in with a mission. I came in with a goal … to make something happen. And I think the biggest takeaway from my experience is that, yes, what I do matters, but also that what community college students do matters. That just because you're attending a community college doesn't mean that what you do is any less important than what someone does at Princeton or at Harvard. It matters.
"You can make something happen, too. You really can. You can make something great happen. You can transform your life. … I mean, Central Piedmont's motto is 'Conquer Possibility.' …
"So why not try?"
———
©2020 The Charlotte Observer (Charlotte, N.C.)