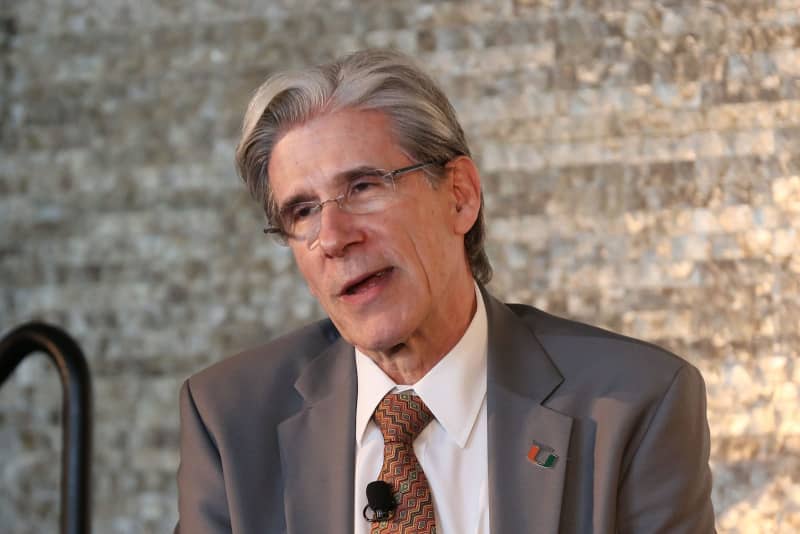 Faced with a budget crunch because of the coronavirus pandemic, the University of Miami athletic department is sending many of its employees on brief furloughs, according to two sources briefed on the situation.
One source said UM athletic department employees have been told to take two weeks off — unpaid — in June or July.
UM declined to comment on the matter or say whether any coaches have been asked to take pay cuts. But a source said there has been no indication that Hurricanes coaches have been asked to take pay cuts.
UM president Julio Frenk said on May 22 that the school would lay off employees in June and soon begin furloughs.
Since campuses officially shuttered March 12, "it has become clear that a reduction in workforce has regrettably become unavoidable," Frenk wrote in that letter which was posted on the UM web site on May 22.
In a follow-up interview with the Miami Herald last month, Frenk said: "The reason we're acting like that is to avoid having the university in a critical situation. The university was in a very strong financial position before the pandemic, and we're coming to this from a position of strength."
UM previously announced pay reductions for top officials and the suspension of both merit-based salary raises and of UM contributions to employee retirement plans.
Frenk told the Herald that a 15% pay cut for all senior executive leaders, including himself, plus a 10% pay cut for the top% of earners, saved the university $6 million. He said that could be revised in September or could be extended.
———
In an interview with WQAM-560's Marc Hochman and Channing Crowder, Frenk reiterated Wednesday that "it is our absolute intent to have a football season. I am looking very hard to make sure that happens."
But Frenk remained noncommittal about whether fans would be in attendance at home games. Iowa State is the only Power 5 program to announce a definitive attendance policy this season, having cut home capacity from 61,500 to 30,000 to allow for some measure of social distancing.
"Whether we are going to be able to play with fans in the stadium remains to be seen," Frenk told WQAM. "It may prove to be impossible to keep everyone safe."
Frenk said it would help "if we continue to observe some of these measures (of wearing masks and social distancing), which most people agree with. You just need a few people not observing the rules to put everyone at risk. If we do this in the right way, we will be able to have many more rewards down the line, including being able to enjoy sports we all like.
"Luckily, the ACC has started its network, and people will be able to watch them (on TV). If we are even more lucky, we will have fans. That I cannot assure now."
The ACC Network still does not have an agreement with Comcast, South Florida's largest cable provider, and a Comcast customer service official said there's no indication that is going to change. ACC Network carried four of Miami's 13 games last season.
Frenk also said that when UM football players return to campus in June — and some are being summoned to campus to take physicals this week — that they will be the first students to return to campus.
"They are coming back ahead of the other students because we need to train them," he said.
In the coming months, "we are going to have to be testing players constantly, to make sure no one is infected," Frenk said. "We are going to have to restrain their movements a little bit so they are not exposed themselves to catching the virus.
"We are putting in a lot of safeguards to make sure this can be done safely. We did a big sacrifice; everyone stayed at home for a long period. It's very important we don't go backwards and aren't forced back into lockdown."
Asked who will make the final call on whether the Hurricanes have a football season, Frenk said:
"Local authorities have a lot to say. If we don't manage these initial phases of a reopen in a prudent way and things get out of control, local or state authorities may reimpose some restrictions on the number of people that can gather, and that could put the athletics program in jeopardy."
Frenk, who previously served as Mexico's Minister or Health, said he believes it will be about a year before a coronavirus vaccine is developed and said students will be advised to get a flu shot.
"This is the first time we will have regular influenza with coronavirus," he said. "We don't know how they will interact. What if someone contracts both? Flu shots are a very important part of the (UM) strategy."
———
©2020 Miami Herald